If you would like to support the running of this site for free, please click on the adverts.
Click to see our Facebook Page:-

On this page: reviews of vegan wraps, sandwiches, savoury pastries, and other ready to eat food, and where you can buy them.
Because taste is so subjective, you may like to take a look at the "What May Affect My Reviews" page before reading the reviews.
Top Choices
Our top picks from this page are Greggs sausage rolls,Tesco Bombay Vegetable Wraps, and Asda Festive Bubble & Squeak with Spiced Chutney Sandwiches.
Here are all the vegan wraps, sandwiches, pastries, and other food to go we have tried (more will be added as we try them)…
Vegan Wraps
Tesco Bombay Vegetable Wrap
My friend Helen and I found these vegan wraps nice and moist because it had mango chutney in it. That chutney gave it a lovely sweetness.
Morrison's Japanese Inspired Wrap
My friend and I found these vegan wraps a bit dry. It would have been much improved if more moist. We wouldn't buy it again as it is.
Morrison's Onion Bhaji Wrap
My friend Helen Reviewed this: Apologies for the picture, I'd already eaten one of these vegan wraps before I thought about getting a picture! The mango chutney made it very tasty. It made it sweet but with a little kick. I didn't think it was too spicy though. The chutney and veg in it made it moist enough.
Sainsbury's On The Go Houmous & Falafel Wrap
Helen reviewed this: The falafel was a little spicy, but not too much for me, and the chutney gave these vegan wraps a nice sweetness. The houmous was nice in it and prevented it from being too dry.
Vegan Sandwiches
Asda Festive Bubble & Squeak with Spiced Chutney Sandwiches
Both my friend Helen and I liked these vegan sandwiches. They were moist enough, and the spiced chutney gave a lovely sweet flavour.
Savoury Pastries To Go
Veg.Out Porkless Pie (Holland & Barrett)
This vegan friendly pie can be eaten cold straight out of the pack, or heated up first. It was not as salty as meat pork pies, and didn't have any salty jelly type stuff in it either. I found it a bit dry and needed to add salt for flavour.
Veg.out steakless bake (H&B)
This can be eaten cold out of the pack or warmed up first. The filling in this was really nice, there was just nowhere near enough of it compared to the amount of pastry. As a result it was too dry for me. If they would put three times as much filling in, I'd be a regular buyer of it.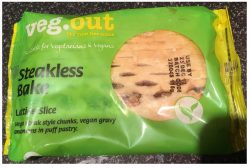 Veg.out no duck and hoisin style sauce lattice slice (H&B)
This can be eaten cold as it is, or warmed up, The filling was really nice, but not enough of it compared to the amount of pastry. I wish they would put three times as much of that tasty filling in, as it was too dry.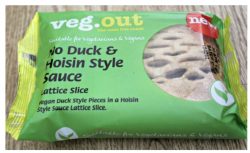 Greggs Vegan Sausage Roll (Greggs Bakery)
I was excited to try these sausage rolls, a collaboration between Quorn and Greggs. I found them to be nice. My partner Steve likes them a lot. I personally would have like them to have more filling in them because that would have been a better proportion of filling to pastry and would make them more moist. Mine was a few hours old when I ate it, so that may have some bearing.
Other Vegan Food To Go
Morrison's Market Street Falafel & Houmous Dip Pot
This was some falafels with a little pot of plain houmous. My friend Helen and I tried this and found the falafels on their own quite dry, but luckily there was enough lovely houmous to dip them in.
Morrison's Vegan Hosimaki (vegan sushi)
This vegan product seemed to consist of white rice with seaweed around the outsides, and different vegetables and spices in the Centre. There was soy sauce to put on it. Without the soy sauce, it would have been too plain for me and I'm not convinced I would have been too impressed, but with the soy sauce it another story – it's really nice. My friend, Helen, thought the same.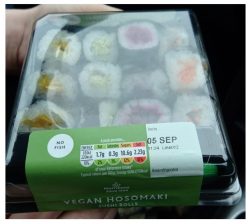 ---
Comments
Have you spotted a mistake, or is any food we have featured no longer vegan? Do you have an alternative opinion to offer on the vegan food products we have tried, or any others? The more opinions people have to go on, the better, so please leave a comment.