If you would like to support the running of this site for free, please click on the adverts.
Click to see our Facebook Page:-

On this page: reviews of vegan vegetable plant based food products, and where you can buy them.
For more vegetable based food products, please also see:
Because taste is so subjective, you may like to take a look at the "What May Affect My Reviews" page before reading the reviews.
Top Choices
From the products we have tried, we have a few favourites: Asda Vegetarian Vegetable Sausages, Morrison's V Taste Sweet Potato Nut Cutlets, Asda Bacon Flavour Fries. Also, No Duck Hoisin Spring Rolls (Iceland), Asda 4 Vegetable Spring Rolls, Iceland 16 Mini Vegetable Spring Rolls are all delicious dipped into Hoisin and Garlic Sauce from Aldi.
Here are all the vegetable plant based food products we have tried (more will be added as we try them)…
Chips and Wedges
Asda Bacon Flavour Fries
My other half, Steve, and I really enjoyed these. They weren't very really strongly flavoured, but definitely had a bacon taste. I added salt to make it even more so.
Spring Rolls
Chinese Take Away Vegetable Spring Rolls (Tesco)
These aren't the mini ones that I usually like, but I thought I'd try them. They weren't hot and spicy, which I was pleased about, but they had a sort of greasy taste I wasn't keen on.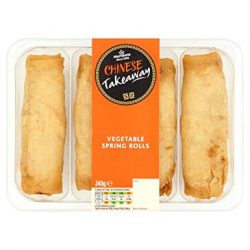 The Asda 4 Vegetable Spring Rolls
These smelled really good. I had my fingers crossed that they would not be hot and spicy like so many other vegetable spring rolls, and thankfully, they weren't. These tasted quite good, but I prefer my spring rolls to be of the mini size. My friend Helen enjoyed these. They are really tasty dipped in to a sweet Chinese sauce, such as vegan hoisin sauce, or soy sauce instead. Delicious.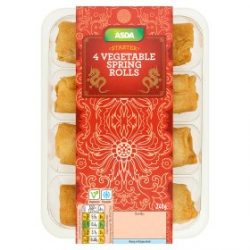 Sainsbury's 10 Vegetable Spring Rolls
I love mini veg spring rolls when I find ones that are not spicy. Unfortunately, these were so spicy I couldn't eat them after the first bite. Even Steve found them too spicy and he isn't keen on spring rolls anyway, so the dog got the rest of them. She didn't mind the spiciness.
Cafe Asia Vegetable Spring Rolls (Home Bargains)
These were ridiculously hot and spicy, right from the first bite. I was very disappointed.
Iceland 16 Vegetable Spring Rolls
These were fairly nice, except I found them a bit heavy on the garlic. A very garlicky taste was left in my mouth. There weren't spicy though, and that's a big plus point for me.
Iceland 16 Vegetable Spring Rolls
I'm always on the hunt for non-spicy mini vegetable spring rolls. Disappointingly, I found these much too spicy for me and not enjoyable at all because of that.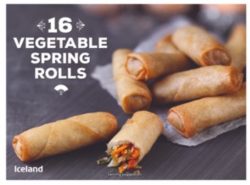 Iceland 16 Mini Vegetable Spring Rolls
Even though these have exactly the same name as the box above, and they are by the same supermarket, it is not just the box that is different, but the spring rolls themselves, because these ones are actually not spicy! They are very mini, which I like, and I am delighted to find non-spicy ones. They do need a dip, though, as lack a bit of flavour without.
Tesco Mini Vegetable Spring Rolls
These were nice, but did get a little spicy for me. I don't think most other people would think they were though. I managed to eat my way through them all anyway! What I did like is that they had the odd bit of sweet corn in.
Morrison's Mini Vegetable Spring Rolls
These were nice, but I think a little spicier at times than the Tesco ones. I finished them all though, so they can't have been too bad.
No Duck Hoisin Spring Rolls (Iceland)
These smelled nice and sweet. The spring rolls were nice and moist and I could taste the hoisin flavour. I was pleased that they were not spicy, but I felt there was something missing. I sprinkled a bit of salt on them, and dipped them in soy sauce, which made them better.
Falafels
Morrison's Free From Moroccan Falafels
I thought these tasted quite nice initially, but then the hot 'n' spiciness kicked in which completely spoiled them for me. Once the burning of my mouth tissues starts, I can't taste anything anymore and it is just very unpleasant. Steve thought they were OK, but a bit spicy. He preferred the Caudron Falafels.
Asda Vegetarian Falafel Bites
These tasted nice to start with, but then the dreaded hot 'n' spiciness kicked in, so these are a no from me. Steve said they were a little too spicy and were just OK.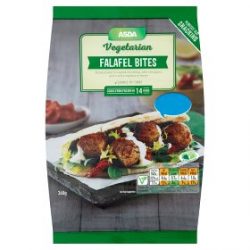 Tesco 12 Sweet Potato Falafels
These would be really nice if they weren't so hot and spicy! I could only eat a little bit because my mouth quickly felt on fire. For those who can take spicy food, they'd probably be lovely. Steve liked the flavour, but also found them a bit too spicy.
Vegi Deli Gourmet Falafels
I found these to be not to spicy and not too dry, which some falafels can be. They tasted quite nice, but again, were nicer dipped in something moist. Steve thought they were quite nice.
Cauldron Moroccan Spice Falafels (Tesco)
These, like Cauldrons Original Falafels, were nice. They had a little more flavour and were a little more spicy than the original falafels. They were not unbearably spicy though. Cauldrons falafels are quite dry, but not to dry to eat them on their own. They are very nice dipped in vegan mayo or houmous.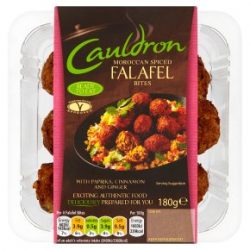 Tesco Vegetarian Sweet Potato Falafel
These sounded and looked nice, but I was disappointed to find them too hot and spicy for me to enjoy. My friend also found them a bit too spicy, but said the taste of them was OK.
M&S Plant Kitchen Sweet Potato Falafels with Cashew Nut and Cannellini Sauce
My friend Helen reviewed these: They are quite tasty. They are pretty spicy but the sauce calms the spiciness down a bit. It would all be nice in a wrap, or as part of a main meal.
Burgers
Vivera 2 Pumpkin Sweet Potato Burgers
This was included in my Christmas dinner. Most of it was covered in gravy, but I did try a bit that wasn't, and it was quite nice.
EatWell 4 Vegetable Quarter Pounders (Herons)
These are are a mixture of vegetables made into a burger shape, with golden breadcrumbs on the outside. Their consistency was quite mushy, but Steve and I both quite liked them.
Morrisons Meat Free Vegetable Quarter Pounders
I found these OK, but I felt they needed salt and tomato sauce to enhance the subtle flavour. Steve said they'd be nicer with fewer peas in, but I thought the number of peas were fine. The burgers were a bit soft and squishy, so I would cook them longer than recommended.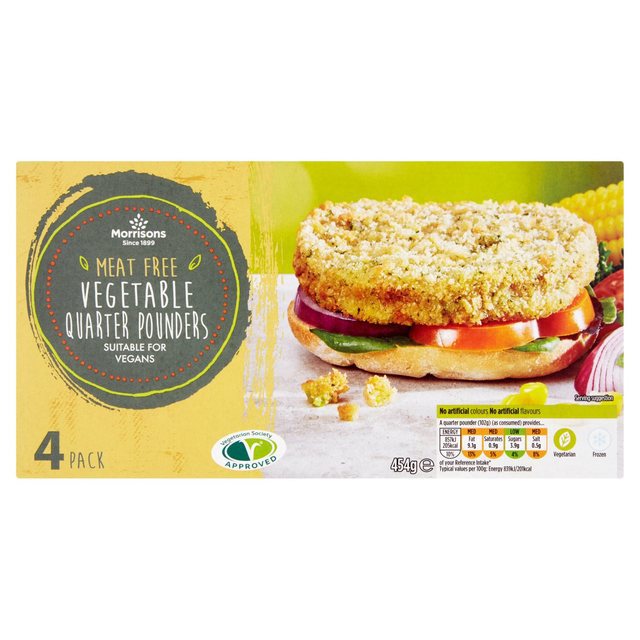 Gosh! Mushroom, Puy Lentil, & Butter bean Burgers (Morrisons)
I like mushrooms so I thought these might be nice. When Steve and I tasted them, neither of us were really keen on them. We thought they didn't have much flavour at all.
Morrisons Meat Free Indian Style Quarter Pounders, 4 Pack
I like the flavours of Indian food, just not the spicy "mouth on fire" feeling. These were far too spicy for me as I suspected they may be, so I could not experience much of the flavour, but Steve thought they were quite nice.
Tesco Peanut & Avocado Burgers
These sounded like they could be nice, but I found them too spicy. I also felt that the large half peanuts in the burger would have been better ground into smaller pieces and distributed through the burger. Steve didn't like the big pieces of peanut either. We both like peanuts, but just thought they should have been smaller bits in the burger.
Iceland Vegetable Burgers
This burger has a crunchy breadcrumb covering and a variety of vegetables inside. Steve said he thought this tasted too much of peas, but I didn't find that it did. As with most things, I thought it could benefit with more seasoning to enhance the flavour.
Other Vegetable Food
Birds Eye Veggie Fingers (Iceland)
These were quite nice, a slightly fishy taste and tasty seasoned breadcrumbs.
Tesco Vegetable Fingers
These are quite nice. The breadcrumbs add to the flavour.
Gosh Mixed Seed Quinoa, Carrot & Coriander Bakes with a Minted Pea Centre (Tesco)
These are a burger shape. Steve liked the sound of them but I'm not keen on mint in savoury food so I wasn't sure I'd like them. When we actually tried them, neither of us particularly liked them. Steve thought they were dry. They were improved with sauces or marinades we added to them, but I couldn't get over my dislike of the mint that still came through.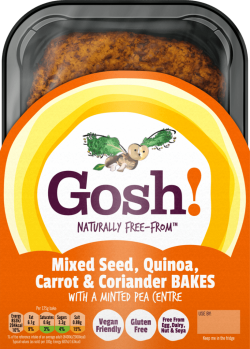 Tesco Finest Cauliflower Wellington
This was part of my Christmas dinner and was covered in vegan gravy. I thought it was quite nice, but I suspect that without gravy on it could have been a bit tasteless.
Morrison's Meat Free Mini Kofta, 10 pack
These were too spicy for me, and I could taste mint in them, which i don't like in savoury food. Steve thought they were just OK.

Gosh! Sweetcorn & Quinoa Bites (Tesco)
I really like sweetcorn, and I found these to be quite nice. However, I would have really liked them to have a stronger taste. I was relieved that they weren't hot n spicy though. I ended up dipping them in soy sauce and houmous, which I think made them nicer.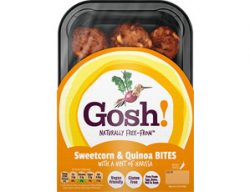 Morrison's V Taste Sweet Potato Nut Cutlets
Both my partner Steve and I like these. The only problem for me is that they were a bit too spicy for my liking. They are nice with Tesco free from mayo, or Hellman's vegan mayo, as that helps to reduce the hot and spiciness. They are also nice with vegan gravy. This is one of Steve's regular buys now.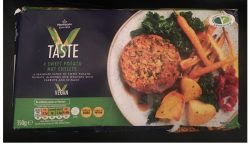 Sainsbury's Indian Snack Selection
This was far too spicy for me. The aloo tikki were very dry and too spicy for me, the vegetable samosa were less dry and too spicy for me, and the onion bhajia were also less dry, but also too spicy for me. I am definitely more sensitive than most to hot and spicy food though.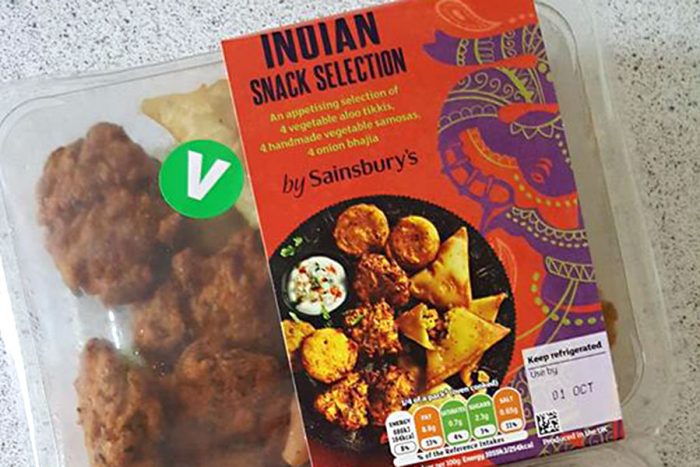 Asda Vegetarian 6 Vegetable Sausages
I thought the taste of these was nice, but Steve was not as keen. We would advise cooking these longer than the recommended time, but they can still be a bit mushy even then.
Cauldron vegan Indian Bites (Tesco)
These were far too hot and spicy for me, but probably OK for people who can stand spiciness. Steve was not too keen on them either.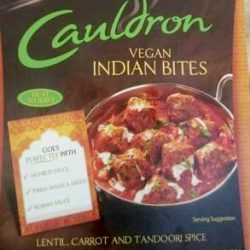 Cauldron Vegan Sausages, Mediterranean vegetables (Morrisons)
These are not like meat sausages. They were too spicy for me, and Steve wasn't keen on the taste of them. My parents (or the dog) get the food neither Steve or I like, and my parents enjoyed these sausages. It always surprises me just how many things they like.
Morrison's V Taste Sweet Potato Nut Cutlets
Both Steve and I really enjoy these with vegan mayo. They are slightly to spicy for my liking, but not enough to stop me eating them.
Tesco Vegetarian Nut Cutlets
I found these more hot and spicy that the Morrison's ones above, and just too spicy for me to enjoy. Steve thought they were quite spicy and generally not as nice as the Morrison's Nut Cutlets.
Tesco Courgetti & Sweetcorn Fritters
I was looking forward to these, because I love sweetcorn. Sadly, I found them too hot and spicy to enjoy. My friend Helen tried them and said they were quite spicy, but tasted OK.
Tesco Bubble And Squeak Bites
I thought these were quite nice, but a bit heavy on the onion.
Tesco Tesco Aubergine Croquettes with Chilli Dip
I don't go near anything that says chilli, so the dip wasn't used, but, disappointingly, I found these to be too hot and spicy for me to enjoy anyway. My friend Helen said she thought they were pretty spicy, but apart from that, they were OK tasting.
M&S Plant Kitchen Cauliflower Popcorn with Soicy Buffalo Dip
This is pieces of cauliflower enclosed in batter. The sizes of the pieces can vary quite a lot. The smaller pieces were the nicest, as they had the best batter to cauliflower ratio. The batter is very tasty but the cauliflower inside not so much so. I didn't try the sauce because any I find anything spicy very unpleasant, but my friend Helen tried it and said it was sweet, but a bit too spicy.
Tesco Wicked Kitchen All The Rage Rolls
These are described as curly kale, mushroom and garlic and we had them cold. I like mushroom and garlic, so thought I might find these tasty. From my first bite I knew it tasted much too herby for me. I thought it lacked flavour, apart from herby flavour, and needed salt. By the time I'd eaten one, my mouth was burning a bit, so it was slightly spicy. My partner, Steve, says he doesn't like mushrooms, but he really like these. He likes herby tastes and said he liked the peppery taste they had. He also remarked how the pastry was nice and soft.
Gosh Smokey Sweet Potato & Red Pepper Sausages (Morrison's)
I found these slightly dry, but Steve didn't. We both thought they tasted falafel-like, although they are shaped like sausages. Steve really liked them but I found them slightly spicy. Neither of us could taste much of a smokey flavour though. Steve says that if they are reduced in price enough again, he'll buy them again.
---
COMMENTS
Have you spotted a mistake, or is a food we have reviewed no longer vegan? Would you like to share an alternative opinion about the vegan food products we have tried, or about any others? Comment below with where you bought them and what you thought of them.