If you would like to support the running of this site for free, please click on the adverts.
Click to see our Facebook Page:-

On this page: reviews of vegan sweets / confectionery, and where you can buy them.
See also:
Because taste is so subjective, you may like to take a look at the "What May Affect My Reviews" page before reading the reviews.
Top Choices
Barrett's Fizzy Dummies from Home Bargains are one of our favourites. Another favourite is Strawberry Wheels, from Poundland. Swizzled drumsticks are also in our top picks, as are Fruit Salad sweets. Candy Kittens Wild Strawberry Gourmet Sweets from Superdrug are also a top choice.
VEGAN SWEETS
Swizzles Drumstick Bar
This chewy Bar is just as delicious as the original chewy lolly (it's made of the same flavours). Both my other half, Steve, and I thoroughly enjoyed the bars, and were left wanting more. It has a lovely, milky taste, and yet contains no milk.
Swizzles Drumstick Bar Bubblegum Flavour (Tesco)
I would say this is as delicious as the original flavour, above. It's lovely and creamy and sweet. Steve agrees with this too.
Fruit Salad Chews in Packet
Both Steve and I love the sweet fruity taste of these chews and find them addictive. They have a lovely strong flavour.
Sainsbury's Fizzy Sour Strawberry Belts
I like sour fizzy sweets, but WOAH! These was the most sour tasting sweets I've ever tasted! They were far too sour for me! They were face-pullingly sour!

Sainsbury's Fizzy Fangs
I was a bit apprehensive about trying these, because of how much too sour the belts from the same brand had been, but these vegan sweets were actually really nice. Sweet with a touch of sour, but not to much.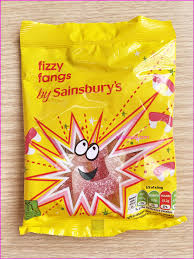 Asda Fizzy Strawberry Flavour Wands
I enjoyed these vegan sweets. They were nice and sweet, with just the right amount of sourness.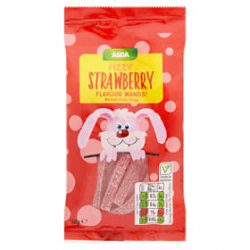 Asda Fizzy Rainbow Belts
These vegan sweets have a nice sweet and sour taste, and not too sour.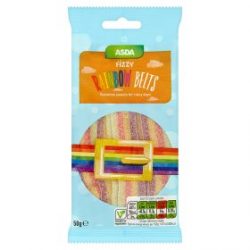 Swizzlers Double Lollies
These vegan sweets were lovely, as I've got a sweet tooth. The only thing is, if I eat too many, I feel they are a bit acidic for me.
Dominion Strawberry Laces (Aldi)
My friend and I thought these laces were really nice and tasted just like the ones I used to love as a child. They looked just the same too.
Barratt Fizzy Dummies
These are really tasty. They are sweet with just the right amount of sourness. They have lots of strong fruity flavour. Steve and I keep buying them.
Strawberry Wheels (Poundland)
These have just the right amount of sweetness, sourness and fizziness. I really like them and their nice strong flavour.
Candy Kittens Wild Strawberry Gourmet Sweets London (Superdrug)
These were really tasty. Sweet and fizzy with a nice strawberry flavour and slightly sour tang. Both Steve and I liked them.
Candy Kittens Sour Watermelon Gourmet Sweets London (Superdrug)
These were not as sour as I expected them to be. They weren't fizzy either. Steve thought the same but liked them more than I did.
Goody Good Stuff Koala Gummy Bears
These vegan sweets were quite nice but not flavoursome enough for me. Steve felt similarly.
Fruit Funk Naturally Strawberry Flavoured Fruit Bar With Fruit & Veggies (Home Bargains)
These were quite thin fruit bars, which weren't as sweet as I had hoped, so wouldn't satisfy my sweet tooth.
Kellogg's Winders (Home Bargains)
These are sweeter than I expected, but they are a long thin strip stuck on backing paper and wound up. They are fiddly, sticky, and impractical to eat…unless you're a kid and will probably like all that.
Candy Floss (Home Bargains)
Three layers of different flavours: banana, a blue one I can't identify, and strawberry. It's delicious!
Seaside Treats Candy Floss
This says it is " traditionally styled confectionery" and does not state it has a flavour, but it is actually strawberry flavour. I don't remember the candy floss I got from fairgrounds being strawberry or other fruit flavoured, but maybe it was. I always thought old fashioned fairground candy floss was just candy floss flavoured. When buying candy floss, and other pink or reddish coloured sweets, check the E numbers listed in the ingredients are not codes for animal products. I will include a photo below the candy floss that I often refer to when shopping.
Dandies mini vanilla marshmallows (alternativestores.com, Newcastle)
These were nice, even though I'm not normally particularly keen on marshmallows.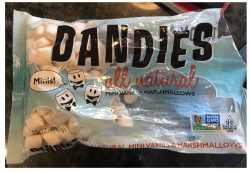 Image E numbers to look out for, that are actually code for animal products.
FUDGE AND CARAMELS
Kuhbonbon Vegan Caramel Chews
Both Steve and I though these caramels were nice. The only drawback was that they left me with a slight sort of powdery feeling in my mouth afterwards, which I didn't like much.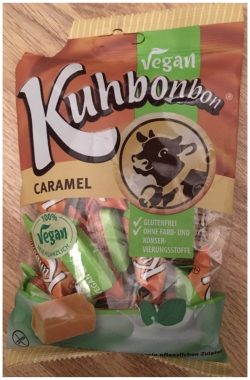 Fabulous Freedom Factory Dairy Free Fudge (Asda)
This is good when you are craving extreme sweetness, but it has a slight taste of aniseed that I am not keen on. My parents have tried it and enjoy it, but they do agree about the slight aniseed taste.
Melting Pot Vegan Fudge Madagascan Vanilla (Alternative Stores, Newcastle)
This had quite a taste of syrup, but doesn't have the slight aniseed taste that the fudge, above, has. It was very sweet, which fudge of course should be. It's nice, and good if you need a hit of extreme sweetness, but I don't love it.
---
COMMENTS
Did we make a mistake, or is a product we have featured no longer vegan? Would you like to share an alternative opinion on a vegan food product we have tried? Please leave a comment.