If you would like to support the running of this site for free, please click on the adverts.
Click to see our Facebook Page:-

On this page: reviews of dairy free butter, margarine and similar vegan spread. You will also see where you can get them.
Because taste is so subjective, you may like to take a look at the "What May Affect My Reviews" page before reading the reviews.
Top Choices
Our top choice is Flora Buttery, although Steve says he can't really tell a lot of difference between them all.
Here are all the vegan margarine and butter we have tried so far (more will be added as we try them)…
VEGAN / DAIRY FREE MARGARINE
Flora Dairy Free
This is sunflower spread. Steve and I both liked this vegan margarine just as much as Vitalite. We couldn't tell a lot of difference between it and most non-dairy free spreads either.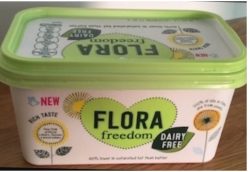 Vitalite Dairy Free
Both Steve and I like the Vitalite sunflower vegan spread. We can't really tell the difference between that and other vegan / dairy free margarines, or dairy ones.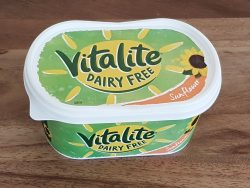 Pure Dairy and Gluten Free Sunflower Spread
Steve and I both thought this was just as nice as other vegan margarine. We would happily have any of them again.
Asda Free From Dairy Sunflower Spread
I like this Spread fine too. I can't really tell a significant difference between the vegan spreads I have tried, or between the non-vegan and vegan ones.
Free Dairy And Gluten Free Margarine
This vegan spread is OK, but it's not one I'd buy because I prefer others.
VEGAN / DAIRY FREE BUTTER
Flora Buttery (Tesco)
This is my favourite vegan spread because of the buttery taste. I love it on its own on toast, or mixed with marmalade or syrup. Its delicious.
---
COMMENTS
Please let us know what you think of these, or any other vegan food products you have tried, and where you bought them. The more opinions people have to go off, the better!
Please also tell us if you think we have made a mistake, or that any vegan spread is now no longer vegan.