If you would like to support the running of this site for free, please click on the adverts.
Click to see our Facebook Page:-

On this page: reviews of vegan pizza and pasta dishes, and garlic bread, and where you can buy them.
Because taste is so subjective, you may like to take a look at the "What May Affect My Reviews" page before reading the reviews.
TOP CHOICES
Our favourite vegan pizzas were the M&S Pulled BBQ Jackfruit and M&S Margherita. The Sainsbury's Basics Garlic Baguette was nice too.
VEGAN PIZZA
Goodfellas Vegan Stone Baked Falafel Pizza (Asda)
This vegan pizza is a normal size, unlike many others. I was really disappointed that this vegan pizza was so hot & spicy! I know I am more sensitive to such foods than many people, but I couldn't taste the pizza because my mouth felt on fire! Steve also felt it was too spicy and did not think much of it. However, someone else commented that they did not think it was particularly spicy.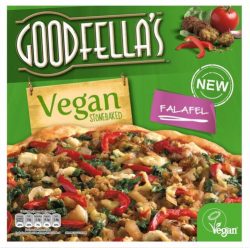 Kirsty's Free From Classic Margherita Pizza (Morrison's)
When we opened this pizza, we saw that, disappointingly, it was not covered to the edges very well at all, which is quite different to what it shows on the box. A good thing is that it is a normal sized pizza. It is a thin crust pizza, but we found it still a bit dry. The tomato pizza sauce on it is really nice, but quite a bit more of it, and more cheese, would have been a lot better. I think the base doesn't taste as good as other pizza bases. We found that if we added our own items to the topping, it was much better.
Iceland No Cheese Italian Garden Pizza
I like cheese on my pizza so I added Violife Mature Cheddar to it. I quite like vegan pizzas coming without any cheese on, so that I can add the type of vegan cheese I like. This was a normal sized pizza, but the topping wasn't spread right up tight to the crust, as it shows it is on the box. The crust was a bit big in places, but there was enough topping on this pizza to make it nice and juicy. Only the crusts were a little dry, but I spread some of the topping onto them to remedy that. I really enjoyed this juicy pizza and would have it again.
Iceland No Cheese Houmous Pizza
This pizza has houmous on it instead of the normal tomato sauce base. I really didn't think I'd like it without tomato on it. When I tried it, it was actually ok, but I did miss the tomato base sauce. It was a normal sized pizza, and although there was enough topping on it where the topping was, it didn't go quite as far to the edges as it could have. It has a nice thin crispy base. Steve tried this one and really liked it. He said he didn't miss the tomato base sauce or cheese. I preferred the Italian Garden Iceland Pizza out of the two.
M&S Plant Kitchen BBQ Pulled Jackfruit Pizza
This has a really lovely sweet BBQ taste. The tomato pizza sauce/paste on the pizza is lovely and sweet too. One complaint both my friend Helen and I had about it was that the topping was not evenly distributed. We had to separate the large blobs of each ingredient ourselves. Another was that it was not a full sized pizza. There was not much cheese on compared to a non-vegan pizza. Overall, we both enjoyed this.
The White Tabbit Pizza Co. Smokin Vegan Smoky Mozzarizella Spinach, Olives, Tomato Pizza (Sainsbury's)
This is a normal sized pizza, and the topping was spread further too the edges than on Kirsty's Pizzas. I didn't realise that I wasn't very keen on the taste of olives, and after a mouthful, I ended up picking the olives off. There was still an olive taste throughout the pizza, but one I could tolerate. It has a nice thin and crispy base, and was overall quite tasty. I really enjoyed the tomato and spinach on it. There wasn't much cheese on it, but I didn't mind that.
Pizza Express Classic Vegan Giardiniera (Morrison's)
My friend Helen and I were disappointed at how much smaller than regular pizzas this is, especially for the price. We got this reduced, but it was still expensive for the size. We didn't think the topping was very evenly distributed, and it could have been spread more to the edges in some places. Where there was enough topping, we thought it was quite juicy, but it was dry in areas where the topping was thinner. It has olives on it, which I am not too keen on.
Sainsbury's Free From Margherita Pizza
My friend Helen and I tried this pizza. It was a normal sized pizza, when other vegan pizzas can disappointingly be a reduced size. It was more generously covered in cheese than many vegan pizzas, but unfortunately neither of us liked the taste of the cheese. Neither Helen nor I would buy it again because of disliking the cheese so much. The pizza is gluten free, but the base didn't seem any drier than one with gluten in.
M&S Plant Kitchen Margherita Pizza
This was quite juicy where it had good coverage of topping. The coverage was OK but would have been better if it had gone closer to the edges. The spinach was similar tasting to that found on a Ristorante Mozzarella Pizza, and makes the pizza very flavoursome. It didn't seem to have as many tomatoes on as shown on the picture on the box. It's a shame it isn't a full sized pizza, and is more like around half the size of a regular pizza, or just over.
No Dough Pizza Co Vegan Margherita (Asda)
The base of this was made from cauliflower and was very thin indeed, something which Steve wasn't keen on. There were areas of it that were dry where the topping didn't cover the base. It wasn't as juicy as I would have liked, and Steve felt the same. It would have been better having more tomato pizza sauce on under the cheese.
Whole Creations Dairy and Gluten Free Roasted Tomato & Basil Sheesy Pizza (Sainsbury's)
The pizza was smaller than a regular pizza, and was oval instead of round. I found the taste quite bland, even where there was topping, except for the tasty sun dried tomatoes. There were not as many as those included in the topping as is shown on the box. Most of the topping seemed to be concentrated in the middle, leaving the bare outside feeling dry in the mouth.
Sainsbury's Love Your Veg Vegan Roast Butternut & Charred Broccoli Pizza
This was a small, oval shaped pizza, probably equivalent to just over half a regular sized pizza. Even though the base is a butternut vegetable base, I didn't really notice it being much different to a normal pizza base. The topping on the pizza could have been more evenly spread to the edges than it was. In some areas the tomato pizza paste was thin, but in others, thicker, making those areas nice and juicy – especially with the broccoli and butternut squash. However, I felt that this pizza did not have a lot of flavour. I added salt and other seasonings to make it tastier.
Tesco Wicked Kitchen Margherita Sourdough Pizza
This is not a full sized pizza, unfortunately. The topping was not very well spread out, and in fact, the tomatoes you can see on it in the Image were the only ones on the whole pizza. I broke them up myself and spread them all over. I used about half of the pesto drizzle, but that was plenty for me, as I don't like things tasting too much of herbs. The pizza was quite nice, but I would have liked it to be juicer – and bigger.
Plant Menu BBQ Jackfruit Pizza (Aldi)
There was not very much cheese on this, and at first it tasted a bit bland, but once I added salt, it made it nice and tasty. I found it juicy enough. It was a full size pizza and not stupidly expensive. I would get it again.
PASTA
Amy's Kitchen Vegan Rice Mac n Cheeze
Steve really liked this, but I thought it needed salt and a more cheesy flavour. I felt I could probably make a better one myself, with Violife prosociano, Smoked, meditteranian style, and extra mature cheddar style cheeses. I tried, and Steve agreed that our homemade one was nicer.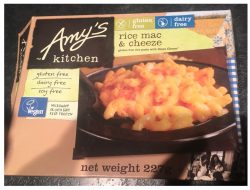 Tesco Free From Mac and cheese
I really like Mac & Cheese so I was excited to find this. I was to be really disappointed though, because when I tried it, it was really hot & spicy! Am I wrong in thinking that Macaroni cheese should not be hot & spicy? I've never had one like this before. It made my mouth feel like it was on fire from the first mouthful, so I really could not taste it.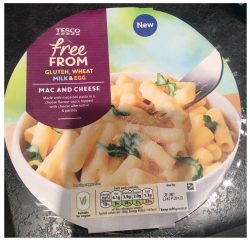 M&S Plant Kitchen Cashew Mac
My friend Helen's review: It smells nice. It's got a slightly mustardy taste. I think it does have mustard in. Its really creamy and filling. I like it and like that it has mushrooms in. I don't think it needs salt.
Morrison's Macaroni
Thankfully most dry pasta is vegan – but not all. This is easy to cook and nice.
Wilmersburger Ravioli (The Incredible Nutshell, Sheffield)
Steve and I both enjoyed this. We had it mixed with a tomato/vegetable paste sauce, which we felt probably gave it most of its flavour.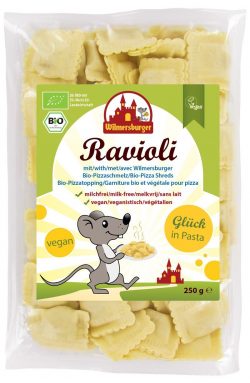 GARLIC BREAD
Morrison's Garlic Bread
Both Steve (my significant other) and I had a similar opinion on this. The garlic smell was very strong. The garlic taste wasn't too strong though, but it did leave a lot of greasy residue in the plate. We also felt a drink was needed with this, as it was a little dry without one. The only thing we disagreed on was that I thought it needed salt for more flavour, and he didn't.
Hearty Food Co Garlic Baguette (Tesco)
This was nice but a little dry for my taste. It was improved by spreading dairy free margarine onto the pieces though.
Sainsbury's Basics Garlic Baguette
Steve and I both thought this baguette was quite nice and would buy again.
---
COMMENTS
Have we made a mistake, or is any of the food we have featured no longer vegan? Do you have an alternative view on a vegan food product we have tried? The more opinions people have to go on, the better, so please leave a comment.