If you would like to support the running of this site for free, please click on the adverts.
Click to see our Facebook Page:-

On this page: reviews of vegan pies, sausage rolls, and other pastry products, and where you can get them.
Because taste is so subjective, you may like to take a look at the "What May Affect My Reviews" page before reading the reviews.
Top Choices
Out of the products on this page, we have a few favourites. Hooba Foods Sausage Rolls are my favourite, especially with Violife mature cheddar cheese melted on top. My other half has a different opinion and likes Gregg's sausage rolls the best. They come a very close second for me too.
Vegan Pies
Fry's family Pepper Steak Style Pies (Morrisons)
I think I would have really liked these if it wasn't for the pepper element of it making the whole thing too hot and spicy for me. It's a shame because I really liked the steak flavour of this vegan friendly pie before the mouth-on-fire-feeling hit me.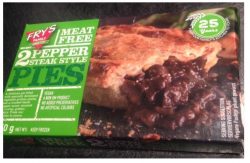 Fry's Meat Free Country Mushroom Pies (Morrison's)
My friend Helen and I both tried these vegan friendly pies. They had a generous amount of filling in them, but I found that they needed seasoning to make the filling tastier. I felt there was a very slight soapy sort of flavour in the sauce. Maybe it was herbs, which sometimes I think makes food taste a bit soap-like. I found it very slightly spicy by the time I'd eaten all of it too. That could just be pepper though. Helen was not too keen on the taste of the chicken style pieces, which I thought were OK. She thought the sauce could have been more flavoursome and the bottom of the pie less soggy, but she loved the nice flaky pastry top of the pie. I didn't mind the soggy bottom.
Fry's Chicken Style Country Mushroom Pie (Tesco)
This was ready to eat from the chilled section. It can also be heated up. I was so hungry I tucked into it as soon as I left the store. I was hoping for a generous and creamy filling, and I wasn't disappointed. I loved the thick creamy sauce, apart from a bit of a herby taste.
Fry's Peppered Steak Style Pie (Tesco)
I knew this would be too peppery for me, but i was feeling so hungry I launched into it. It is from the chilled section and ready to eat or can be heated up. The filling took a bit more getting to than the chicken style pie. It didn't seem to be as oozing with lovely sauce. When I did get to it, it was too spicy for me, so it was a bit wasted on me really. I'm sure if it had been salty instead of peppery, I would have loved it.
Fry's Med Veg & Squash Slice (Tesco)
This Mediterranean vegetable and butternut squash slice was from the chilled aisle, and could be heated or eaten cold straight out of the packet. I had it cold. I was hoping for lots of filling to come oozing out On my first bite, like happened with the chicken style pie, but it didn't happen. The filling wasn't particularly saucy, and I would have liked there to be more of it (this often seems to be the case with slices though). I felt it definitely needed salt.
M&S Plant Kitchen Mushroom Pie
I found had this cold the day after cooking it, and quite enjoyed it. I thought the lid of the pie was rather oversized, compared to the base, meaning there was a large pastry crust. Pastry lovers will like that, but I prefer less crust, more filling. There was enough filling, which was moist enough too, but I felt it needed salt. With gravy I think it would be lovely. Here is my friend Helen's review: The pastry tastes nice and 'buttery'. Lovely mushroom filling, quite deep filled too. I'm having it on its own but would be better as part of a meal, with mash, veg and gravy, and more salt. I noticed the mushrooms themselves are a bit peppery. I quite like it.
Veg.Out Porkless Pie (Holland & Barrett)
This vegan friendly pie can be eaten cold straight out of the pack, or heated up first. It was not as salty as meat pork pies, and didn't have any salty jelly type stuff in it either. I found it a bit dry and needed to add salt for flavour.
Tesco Meat Free Vegetable And Chicken Style Pies
At first this pie tasted pretty bland and was a bit to heavy on the herbs. However, when I added salt and stirred all the contents of the pie up…what a difference it made. I really enjoyed it then.
Pastry Slices
Veg.out steakless bake (H&B)
This can be eaten cold out of the pack or warmed up first. The filling in this was really nice, there was just nowhere near enough of it compared to the amount of pastry. As a result it was too dry for me. If they would put three times as much filling in, I'd be a regular buyer of it.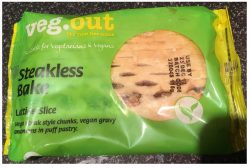 Veg.out no duck and hoisin style sauce lattice slice (H&B)
This can be eaten cold as it is, or warmed up, The filling was really nice, but not enough of it compared to the amount of pastry. I wish they would put three times as much of that tasty filling in, as it was too dry.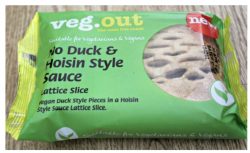 Pasties
Ginsters Vegan Moroccan Vegetable Pasty (Herrons)
This was lovely and sweet. The only draw back for me personally was that I found it spicy. Stephen liked it, and has a higher tolerance for spiciness, so didn't find it too spicy.
Sausage Rolls
Linda McCartney's 7 Vegetarian Sausage Rolls (Morrison's/Tesco)
My other half Steve is very keen on these sausage rolls. I thought they needed salt, and the pastry was a bit too dry.
HoobaFoods.com Sausage Rolls
This is my number one choice for vegan friendly sausage rolls. I discovered them whilst at a vegan festival. There is loads of filling, and not too much pastry. The filling to pastry ratio is great for me. I like that the pastry doesn't make the sausage roll seem dry. I usually think there is too much pastry on sausage rolls and not enough filling, making them too dry, but not this one. The filling itself is very sausage-meat-like. Steve likes these too. My friend Helen is just as impressed with them as I am. They are available online, but I wish they were available in the shops.
Greggs Vegan Sausage Roll (Greggs Bakery)
I was excited to try these sausage rolls, a collaboration between Quorn and Greggs. I found them to be nice. My partner Steve likes them a lot. I personally would have like them to have more filling in them because that would have been a better proportion of filling to pastry and would make them more moist. Mine was a few hours old when I ate it, so that may have some bearing.
Mae's Kitchen Vegan No Sausage Rolls (Aldi)
These came out of our oven looking a little undercooked, but Steve and I enjoyed them anyway. I liked that the pastry tasted quite buttery, and that there wasn't too much of it compared to the filling. Steve liked the filling too, and I thought it was quite nice, but needed salt. I would say that the pastry was nicer than the pastry on Gregg's sausage rolls, but the filling wasn't as flavoursome. They weren't dry though, which is something I do not like about many sausage rolls.
Tesco 30 Vegetarian Sausage Rolls
These soya based mini vegan friendly sausage rolls were nice, with a bit of salt added to give them more flavour. I thought there was a bit too much pastry compared to filling, which is something I often think about pastry food. Steve liked them.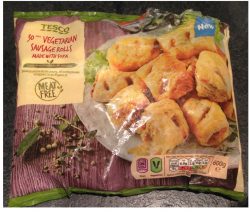 Veggie Kitchen Meat Free Mini Sausage Rolls (Farm Foods)
Steve and I thought these were nice, but a bit too much pastry. They were not as nice as Hoobafoods.com sausage rolls, my definite favourite vegan friendly sausage rolls.
Fry's Family Cocktail Sausage Rolls (Morrison's)
Steve and I both liked these vegan friendly sausage rolls. The filling tastes (unsurprisingly) like the Fry's sausages. There is a better pastry to sausage ratio than with some other mini sausage rolls, but that is only good if you like the Fry's sausage taste.
Other Pastry Foods
Linda McCartney's Beef Mushroom & Spinach Wellington Bites (Morrison's)
Both Steve and I felt these needed more seasoning, as the taste was a bit bland. They were moist enough, which was nice, but more salt needed I think.
Linda McCartney 2 Red Onion & Rosemary Sausage Plaits (Tesco)
These are pretty chunky and filling. Steve liked them, but I thought they lacked flavour and needed salt. I also thought the pastry and sausage together was a bit dry.
Tesco Finest Cauliflower Wellington
This was part of my Christmas dinner and was covered in vegan gravy. I thought it was quite nice, but I can't say what it would have been like without gravy on.
---
Comments
Have we made a mistake, or is any of the food we have featured no longer vegan? Do you have an alternative view on a vegan food product we have tried? The more opinions people have to go on, the better, so please leave a comment.