If you would like to support the running of this site for free, please click on the adverts.
Click to see our Facebook Page:-

On this page: reviews of vegan pasta sauce, pizza topping, pesto, and marinades, and where you can buy them.
Because taste is so subjective, you may like to take a look at the "What May Affect My Reviews" page before reading the reviews.
Top Choices
Our top picks from this page begin with Lutenitsa, which can be bought from most international shops. We really liked both the Aldi and Asda Tomato Pizza Topping sauces, the Aldi Hoisin and Asia Garlic Sauce from Aldi.
Here is all the vegan pasta sauce, pizza sauce, and marinade we have tried (we will add more as we try it)…
Vegan Pasta Sauce
Heritage Original Pasta Sauce (McColls)
Although it says pasta sauce, Steve and I used this as the tomato topping on pizza. We thought it was pretty nice.
Free & Easy Dairy Free Cheese Sauce Mix (Holland & Barrett)
This is a powder to make sauce from. When I made sauce using only this powder, I felt it tasted too strongly of onion. Because of this, I tend to only use this powder as part of a cheese sauce, along with white sauce, yeast flakes and vegan cheese (Violife Mediterranean, Smoked, Mature Cheddar or Prosociano).
Dolmio Tomato Lasagne Sauce (Morrisons/Tesco)
Steve and I used this vegan friendly sauce as the tomato sauce base for a pizza, and both of us found it tasty.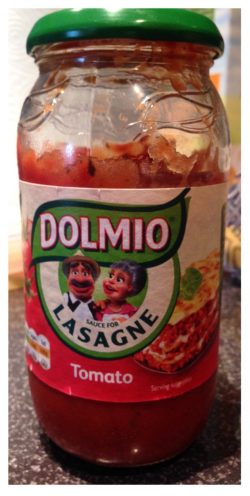 Morrison's Vegetable Pasta Sauce
This is a fairly sweet tomato based vegan friendly sauce, which we had with vegan ravioli, and it was lovely. We have also used it as a base sauce for vegan pizza, and liked it as that too. We'll be getting it again.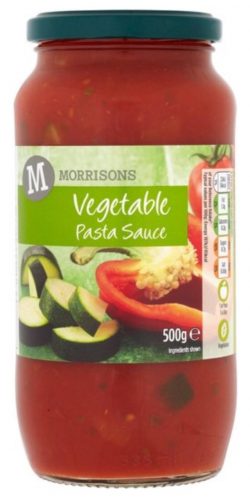 Lutenitsa (most international shops)
This is delicious! We first tasted it in Bulgaria and were thrilled to find this vegan friendly sauce was also available in the UK. I never thought tomato, peppers and other things together could taste so lovely – although I am sure sugar has a lot to do with it! It is so flavoursome and sweet. It's lovely as a sweet base sauce for pizza, to have with pasta, rice, to dip your chips in, and to have on toast, etc.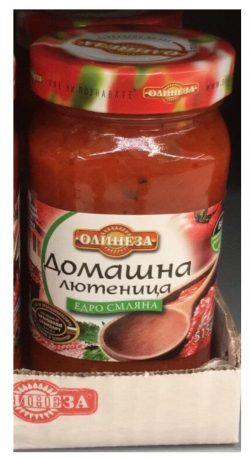 Vegan Pesto
Le Conserve Della Momma Free From Red Pesto, and Sacla Free From Tomato Pesto (Tesco, Rochdale)
Steve and I like both of these. I like them much more than any green free from pesto, but I need quite a bit of salt or other seasoning in mine to make it more flavoursome.
Sacla Free From Basil Pesto (Tesco)
Steve liked this, but felt it was a little to heavy on the basil. I find any green pesto – including this one – too herby and perfume, and find the taste soapy.
Pizza Topping Sauce
Morrison's Tomato & Herb Pizza Topper
This was quite nice when we made a pizza on a wrap with this sauce, sweetcorn and Violife Mature Cheddar. Steve liked it. I would probably like it better if it was sweeter and had more of a tomato-tang.
Aldi Tomato Topping Sauce
This comes in a squeezy plastic bottle, and you get a lot for your money. When we made a pizza with it, it was delicious. It was quite tangy, so I knew I didn't have to put a lot on to get the flavour. I would definitely buy it again. Steve liked it too.
(Awaiting Image)
Asda Tomato & Basil Pizza Sauce
This was a really tasty pizza sauce. Like the Aldi one, just the right amount of tang and sweetness. Steve liked it too.
Marinades And Other Sauces
Asia Hoisin and Garlic Sauce (Aldi)
This vegan Friendly sauce was delicious, really sweet and tasty, and I didn't find it spicy. I love dipping non-spicy mini vegetable spring rolls in it, or just having it, with vegetables mixed in, on rice.
Flava-It Chinese Marinade (Home Bargains)
This powder can be used as a marinade, but is also really tasty to sprinkle over savoury food. It has a lovely sweet and salty Chinese flavour to it, and is not hot & spicy at all.
---
Comment
Have we made a mistake? Would you like to share an alternative opinion about the food we have tried, or about other vegan food products? Please leave a comment about it, and where you bought it.