If you would like to support the running of this site for free, please click on the adverts.
Click to see our Facebook Page:-

On this page: reviews of vegan milk products, and where you can buy them.
Because taste is so subjective, you may like to take a look at the "What May Affect My Reviews" page before reading the reviews.
Top Choices
Out of all the milk we've tasted, Steve's favourite is Alpro Cashew Milk, and mine is Rice Dreams Milk. However, whilst on holiday we tasted one that trumps both of those: Don Simon Sweetened Soya Milk. We absolutely love the sweetness, and the slight taste of condensed milk. Sadly, it is not available in the U.K. Our favourite milkshake is the M&S Chocolate Shake, but we don't have an M&S in our town, so we buy the Alpro Chocolate Shake, which is lovely too.
Here are all the milk products we have tried so far (more will be added as we try them)…
Milk
There are many plant based alternatives to cows milk, including soya milk, rice milk, cashew nut milk, oat milk, coconut milk, almond milk, hazelnut milk, hemp milk, macadamia milk, and more. Here I review just some of them.
Rice Dreams Original With Calcium Rice Milk (Tesco)
This is my favourite vegan friendly milks. It has a thinner consistency than cows milk, but still tastes very creamy. When drunk alone, it is quite sweet, which I like, but does have a rice taste. It reminds me a bit of rice pudding. It is particularly nice with cereal, where the rice taste disappears and it just tastes creamy. The same goes for having it in hot drinks. I also like putting toffee or banana flavour Flavdrops in to make milk shake. This is Steve's second favourite milk, as he prefers cashew milk.
Oat Dream Original with Calcium Milk (Poundstretcher)
Steve and I like Rice Dream milk, so we thought we might like this, from the same "Dream" brand. This vegan friendly milk tastes very creamy, but you can definitely taste the oat taste. It has a thinner consistency than other oat milks. It's not bad, but we think the Rice Dream milk is slightly sweeter, so we'll stick with that.
Oat Dream Organic Gluten Free Oat milk (Pound Stretcher)
This vegan friendly milk was OK, sweeter and nicer than other brands of oat milk I've tried, but I could still easily taste the oats. It had a fairly thin consistency. It was much like the Original with Calcium, above.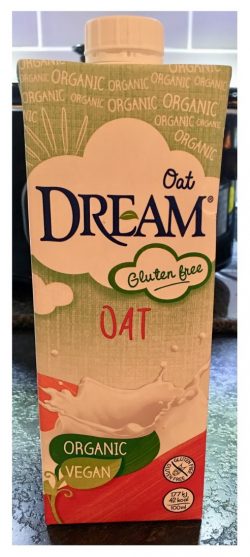 Oatly Oat Milk Barista Edition (Morrison's)
This was OK. I could still taste the oatiness, but not as strongly as in some other oat milks. It has quite a creamy consistency. Many people seem to favour this vegan friendly milk over others, but not me. It has been formulated specially for hot drinks.
Ancient Grains Dream with Oat, Spelt & Buckwheat (Pound Stretcher)
This was OK, but not one of my favourite vegan friendly milks. Steve wasn't particularly keen on it either.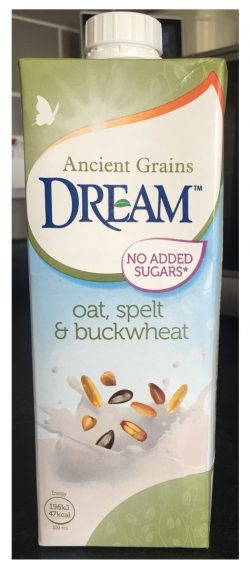 Good Hemp Dairy Free Milk
To me, this vegan friendly milk did not taste good. Steve did not like it much either.
Provamel Hazelnut Milk
This has a definite nutty taste, but is also quite sweet, which is nice. Still not my favourite milk alternative though. My friend Helen tried it in her coffee and could still taste the nuttiness, but thought it was a pleasant taste.
Cream
Alpro Single Soya (Tesco)
This has the consistency of single cream, but the woody taste I can taste is too strong for me when I taste it on its own. However, when I used it in cooking, it gave the sauce a lovely creamy taste, and the wood taste had disappeared.
I have never liked spray cream or whipped cream, so was pleasantly surprised that this was not as revolting, and it was sweeter too.
Food Heaven Heavenly Whipped Cream Topping (Asda)
I was never a fan of dairy whipped cream, so I did not expect to like this. It was very similar to dairy whipped cream, but I would say it was a little sweeter, so I found it nicer. My niece and nephew had it on top of their hot chocolate drinks and liked it.
Coffee Milk Drinks
Food Heaven Cafe Soy Iced Latte (Morrison's)
This was very pleasant, even though I'm not normally a fan of lattes.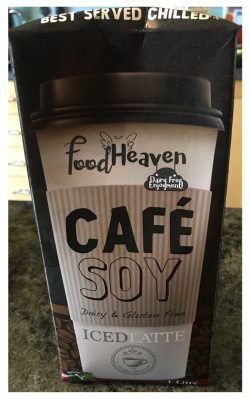 Rebel Kitchen Dairy Free Mylk Coffee Drink (8th Day Co-op)
Fairly sweet, but not quite sweet enough for my friend Helen or I (we both have a really sweet tooth!). I do not like coconut and the coconut taste was too strong for me, but Helen thought it was OK.
Milkshake
M&S Made Without Dairy Banana and Oat Drink
I'm not sure that this was meant to be a milkshake, maybe more of a lightly flavoured milk. It wasn't as sweet as I like. I could taste both the oat and banana taste when I had it in its own, but when I had it in my coffee it just added a nice banana flavour.
M&S Made Without Dairy Chocolate Soya Drink (chocolate milkshake)
This was really chocolatey and tasty. There was no woody taste that soya milk can have, just a rich, chocolate taste. I really liked this. If we had an M&S nearer us we would buy it regularly.

Alpro Chocolate Soya Milkshake (Morrison's)
Both Steve and I really like this chocolate milkshake and buy it regularly. I cannot taste the woody, whole meal type taste that I can with most soya milk.
Alpro Dark Chocolate Almond
This is quite nice, but both Steve and I like the Alpro Chocolate Soya Milk better, as it's a little sweeter. We cannot really taste the almond taste, which is good.
Alpro Strawberry Milkshake
This is pleasant, but the strawberry flavour is a bit weak. I could not taste the woody, wholemeal taste of soya milk though, which is good.
---
Comments
Have we made a mistake, or is any of the food we have featured no longer vegan? Do you have an alternative view on a vegan food product we have tried? The more opinions people have to go on, the better, so please leave a comment.