If you would like to support the running of this site for free, please click on the adverts.
Click to see our Facebook Page:-

On this page: reviews of vegan mayo, dressings, condiments and seasoning, and where to get them..
Because taste is so subjective, you may like to take a look at the "What May Affect My Reviews" page before reading the reviews.
Top Choices
Our top picks from this page are Helman's Vegan Mayo, with Tesco Free From Mayo as runner up. Osem Chicken Flavour Soup And Seasoning is our favourite seasoning..
Here is all the vegan mayo, seasoning, dressings, condiments we have tried so far (we will add more as we try them)…
Vegan Mayo
This, along with most other vegan friendly mayonnaise we have tried, was very tangy. It tasted more like salad cream than mayonnaise to me. I want my vegan mayonnaise to taste creamy and not tangy, but the only one I've tasted like that has been a home made one.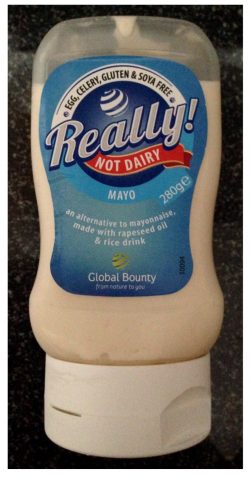 This vegan Friendly mayonnaise seems to be a big favourite of many vegans. I found this still a bit too tangy for me though. Steve felt the same.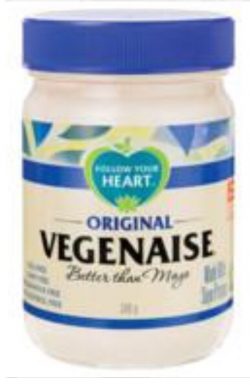 Tesco Free From Vegan Mayo
I feel that this is one of the creamiest tasting vegan mayonnaise's that Steve and I have tried. It is also one of the least tangy. There is still a taste of vinegar in it that gives it a tang though. It would be much better without that. The packaging of this product is an ill thought out disaster. It is a plastic squeezy bottle, which works OK for the first few squeezes, but quickly becomes impossible when the remaining mayo in it stubbornly clings to the sides. It will not slide to the bottom to be squeezed out – no matter what! The only option is to cut the bottle in half – which is a messy job – and then scrape the mayo out into another vessel. It would be much better if it came in a jar where a spoon could be used to get it out.
I found the garlic quite strong in this vegan friendly mayonnaise. It was a bit too overpowering for me. The mayo a bit too tangy as well.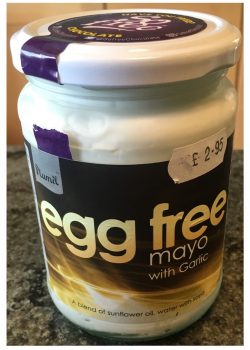 Helman's Vegan Mayonnaise
I hoped this would be creamy, without much of a tang. It was a bit more tangy than I would have liked, but it is nice and creamy. Steve says this is his favourite and I think it is mine too.
Free From Classic Mayo (Aldi)
Both Steve and I thought this mayo was far too tangy and had far too much vinegar in. It stung my throat and it tasted more like salad cream than mayo to me.
No Yolk Original Mayo (Iceland)
This is another one that tastes to Steve and I a bit more like salad cream than mayo, because it is so tangy.
Other Condiments
Inspired Vegan Marie Rose Sauce (Aldi)
This tastes pretty nice mixed with pasta and salad. It's quite tart but sweet enough too. I'm not sure I like it any better than Helman's Vegan Mayo mixed with tomato ketchup though.
Other Dressings
HP Fruity Sauce (Tesco)
I thought "fruity" sounded nice and sweet, although this was not as sweet as I would have liked. It was OK as a relish in a burger bun with a vegan burger. Steve said it wasn't really for him.
Yogiyo Galbi Fruity Soy Marinade (Sainsbury's)
I quite liked this on falafels and vegan burgers, but I didn't love it.
Blue Dragon Sticky Japanese Teriyaki (Tesco)
I was hesitant to buy this, as I thought it would be spicy, and my mouth can't cope with the slightest bit of spiciness. I was pleasantly surprised when I tried it. It wasn't too spicy and it was tasted when added to food.
Seasoning
Smokey Bacon Flavour Seasoning from Spice Works (eBay)
This did taste smokey, but not really very much like bacon. It tasted slightly more like BBQ than bacon. I still like the taste when I add it to foods.
Mari Gold Swiss Vegetable Bouillon Powder (Morrison's)
I was looking for something to season my food as a replacement for non-vegan Knorr Aromat seasoning. Although this is bouillon, it was recommended to me as a seasoning. I have used it on a few things, and although it tastes different to Aromat, it is still quite nice.
Osem Chicken Flavor Soup and Seasoning (Sainsbury's)
This was suggested to me by another vegan as a vegan replacement for the non-vegan Knorr Aromat seasoning. Both Steve and I really like it. It's great for putting on almost any food as a seasoning, and great to flavour sauces.
---
Comments
Have we made a mistake, or is any of the food we have featured no longer vegan? Do you have an alternative view on a vegan food product we have tried? The more opinions people have to go on, the better, so please leave a comment.