If you would like to support the running of this site for free, please click on the adverts.
Click to see our Facebook Page:-

On this page: reviews of vegan instant noodles and ready meals, and where you can buy them.
Because taste is so subjective, you may like to take a look at the "What May Affect My Reviews" page before reading the reviews.
Top Choices
Our favourites on this page are Koka Oriental Instant Noodles Chicken Flavour, Amy's Kitchen Chinese Noodles and Veg (Sainsbury's/Asda), M&S Mushroom Stroganoff, M&S Cashew Mac, and Sainsbury's Love Your Veg Rainbow Stew with Dumplings. I did feel the last three of those needed salt though.
Here are the vegan instant noodles and ready meals we have tried so far (more will be added as we try them)…
"Meat" Based Ready Meals
M&S Plant Kitchen Chilli Non Carne
The filling has a nice and meaty texture, but it is much too spicy to be enjoyable. The spiciness also stops me being able to really taste the food.
M&S Plant Kitchen Lasagne
This is nice and creamy, but both Helen and I thought it need more salt/seasoning to give it more flavour.
M&S Plant Kitchen Spaghetti Bolognese
My friend Helen said this: "I like the spag bol. It is really 'meaty' and filling. It could do with more salt, and maybe some garlic, but you can add these things yourself" I tried it some time after she did, and think much the same.
M&S Plant Kitchen Tikka Masala with Rice and Marinated Soya Pieces
Because I do not like spicy food, my friend Helen reviewed this: "The curry is OK. It is a bit spicier than I expected and I think there's coriander in it, which I don't like. There is a generous portion of soya chunks, and the sauce has a decent creamy texture, although it is maybe a bit on the sloppy side. Even I was startled by the spiciness, and I'm OK with spices usually. This was too hot. The soya chunks themselves are a bit underwhelming. I'd have preferred chunks of potato and other veg instead."
Vegetable/Plant Based Ready Meals
M&S Plant Kitchen Roasted Mushroom Stroganoff
I found the stroganoff smelled quite strongly of garlic, but did not taste overly of garlic. The sauce was watery until I mixed it in with the cauliflower, which mopped it up. It was lovely and moist, but I thought it needed salt/seasoning too. Once I added that, I enjoyed it. My friend Helen also tried this and thought it was nice and creamy. She also liked the cauliflower rice. She said the whole thing could have done with salt, but that can be added yourself.

Morrison's V Taste Butternut Squash And Chickpea Curry
Steve tried this and found it was too spicy for him.
Sainsbury's Love Your Vegetables Rainbow Stew with Dumplings
This could have done with a bit more flavour, but with added seasoning it was quite nice.
M&S Plant Kitchen Cashew Mac
This has quite a watery sauce until I mixed it all together. Then it went nice and creamy. I thought it needed salt (as I normally do). My friend Helen also tried it. Here is her review: It smells nice. It's got a slightly mustardy taste. I think it does have mustard in. It is really creamy and filling. I like it and like that it has mushrooms in. I don't think it needs salt.
Tesco Free From Mac And Cheese
I really like Mac & Cheese so I was excited to find this. I was to be really disappointed though, because when I tried it, it was really hot & spicy! Am I wrong in thinking that Macaroni cheese should not be hot & spicy? I've never had one like this before. It made my mouth feel like it was on fire from the first mouthful, so I really could not taste it.
Amy's Kitchen Vegan Rice Mac n Cheeze
Steve really liked this, but I thought it needed salt and a more cheesy flavour. I felt I could probably make a better one myself, with Violife prosociano, Smoked, meditteranian style, and extra mature cheddar style cheeses. I tried, and Steve agreed that our homemade one was nicer.
Morrison's V Taste Vegetable Paella
My friend Helen reviewed this: Morrison's veggie paella (vegan) a little sweet and a little spicy, but full of flavour in the olives tomatoes and peppers. And whatever the sauce is. Not a huge fan of black olives but they add some saltiness to it. Others may not find it spicy at all. It's not as spicy as a curry would be, just a little tang to it. If you eat big mouthfuls quite quickly you get more of the spicy aftertaste
Morrison's V Taste Mushroom Bolognese
My friend Helen reviewed this: The Bolognese is lovely. Would be nice with a bit of pepper and vegan Parmesan stuff. I think I like the Morrisons ready meals better than that M&S plant kitchen ones. More flavour. I said the M&S bolognese could have done with some mushrooms as well as soya mince. This one has mushrooms instead I think. A mix of both would be nicer.
Amy's Kitchen Chinese Noodles & Veggies, Gluten Free (Sainsbury's & Asda)
This was reviewed by my friend, Helen: The creamy cashew sauce is sweet and delicious but more of a coating than a sauce. I microwaved it so I don't know what oven cooked would be like, but I really enjoyed it and would get again. The only downside is the price. I can't remember exactly how much it was, but I remember wincing a bit at the price!
M&S Plant Kitchen Dirty Fries
These were fairly chunky chips in a tomato and bechamel sauce, with vegan cheese. There was enough sauce to coat the chips, but unfortunately the sauce was too spicy for me (I am sensitive to spiciness), so I didn't enjoy this meal much because of that.
Instant Noodles
Pot Noodle Sweet and Sour
This was more hot & spicy than any sweet and sour I've ever had from a Chinese takeaway. The spiciness spoiled these instant noodles quite a bit for me. It would have been really nice without it.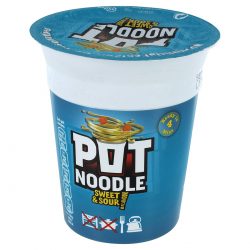 Pot Noodle Chinese Chow Mein
I was very disappointed that these accidentally vegan instant noodles were hot and spicy. I've never had a chow mein from a Chinese take away that was hot and spicy (thankfully). It might have been nice without the spiciness.
Koka Oriental Instant Noodles Chicken Flavour
These need water added, then 3 mins in water in the microwave. They are delicious.
(Awaiting Image)
Pot Noodle, Brazilian BBQ Steak Flavour
I could only have half a mouthful of these accidentally vegan instant noodles because they were SO HOT 'n' SPICY! I'm afraid I gave the rest to the dog.
Golden Wonder Noodle Pot, Chicken & Mushroom Flavour (Home Bargains)
I thought these instant noodles had a very odd taste, and not at all a nice one. I gave them to the dog! I've also seen these in pots of a different design that are not vegan products, so I do not know if they have changed their recipe.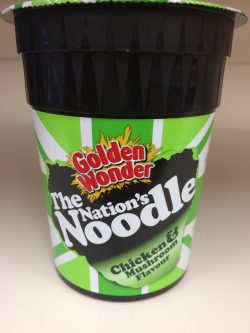 King Pot Noodle, Sausage Casserole Flavour
Both Steve and I were disappointed with these accidentally vegan instant noodles. It didn't taste to us like sausage casserole, and lacked flavour. Not as bad as the Golden Wonder one above though!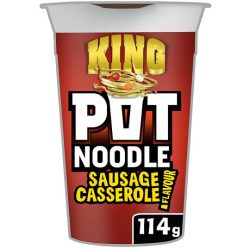 Comments
Have you spotted a mistake, or is a food we have reviewed no longer vegan? Do you have an alternative opinion to offer on the foods we have included, or any other vegan food products? The more opinions the better, so please let us know where you got it and what you thought of it.