If you would like to support the running of this site for free, please click on the adverts.
Click to see our Facebook Page:-

On this page: reviews of vegan hummus and pate, and where you can buy them.
Because taste is so subjective, you may like to take a look at the "What May Affect My Reviews" page before reading the reviews.
Top Choices
My favourites are Tartex Organic Pate Classic, got from my local health food shop, and Steve and I both loved Asda Sundried Tomato Houmous. However, the latter sadly seems to no longer be available, as far as I know. Only because it is not available, Steve chooses Morrison's Sundried Tomato Houmous With Basil as his top choice.
Here is all the vegan hummus and pate we have tried so far (more will be added as we try it)…
Vegan Hummus
Tesco Red Pepper Houmous
Both Steve and I enjoyed this. I think it has a slightly stronger, slightly more tangy flavour than the Morrison's Red Pepper Houmous, but it is not too tangy. I preferred this one, but Steve preferred the Morrison's one.
Tesco Sweet Chilli Houmous
When I first tasted this, I loved the sweetness of it, but then the spiciness hit me and made my mouth feel like it was on fire. It was far too spicy for me, and even a little too spicy for Steve.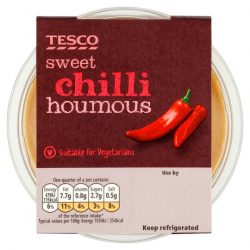 Morrisons Sweet Chilli Houmous
Sweet Chilli always has such a lovely sweet taste. I only wish I could get it without the chilli element that makes it so unpleasant for me. Although this houmous was too hot & spicy for me, Steve liked it, and we both think it is slightly less spicy than the Tesco equivalent.
Morrisons Red Pepper Houmous
Steve and I both enjoyed this, but I think a stronger flavour would be nice.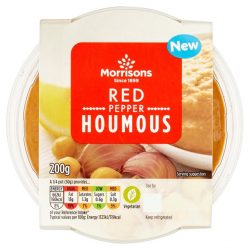 Morrisons Original/Plain Houmous Reduced Fat, and Red Pepper Reduced Fat
Steve and I both liked both of these flavours. I prefer the Tesco equivalents, Steve doesn't.
Morrison's Lemon and Coriander Reduced Fat – I really liked this initially, but it soon became to spicy for me. Steve did not like it.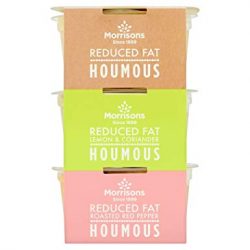 Morrison's Caramelised Onion Houmous
This sounded nicer to me than I thought it tasted. It was OK, but it did not have a strong enough flavour for me. Steve wasn't too keen on it.
Morrisons Sundried Tomato and Basil Houmous
Steve and I both liked this, but it was not as delicious as the Asda Sundried Tomato flavour. Morrison's stopped selling it, but then brought it back. The new version is far too heavy on the basil in my opinion, but Steve still likes it.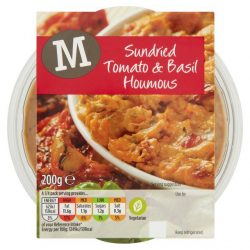 Asda Sun Dried Tomato Houmous
Steve and I both really liked this. I thought it tasted slightly of cheese as well as tomato, but there is no cheese in it. We both agree this is our favourite houmous. Sadly, Asda seem to have stopped stocking it.
Is there a sundried tomato houmous conspiracy at the moment? Our local Tesco and Morrison stores don't sell this flavour either.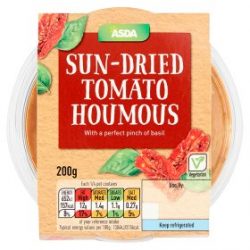 Asda Houmous Original
This houmous is nice, but I think I prefer the Tesco equivalent.
Asda Red Pepper Houmous
This was really tasty. Steve likes it too.
Co-op Butternut Squash Houmous
Both Steve and I thought that this tasted like raw butternut squash. We preferred other houmous flavours to this one.

Moroccan Houmous (Aldi)
We hadn't seen this flavour before. It tasted to me like falafels. It was nice, but sadly, a bit too spicy for me. Steve liked it.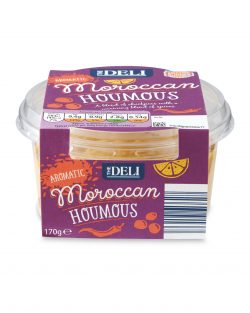 Moorish Smoked Humous (Sainsbury's)
This did taste smoked, which was nice, but to me it also had a strange taste. So, all in all, it was just OK.
Pate
Tartex Organic Pate Classic (Original) Flavour (Golden Harvest, Whitehaven)
I quite enjoyed this vegan friendly pate. I think it's nicer than the Mushroom flavour one I've also tried. Steve wasn't keen on it though, as he has never been keen on pate. As usual, I think a touch of salty seasoning added to it made it tastier. The only thing was that the consistency of it was not as firm as I would expect pate to be. This flavour mixed with the mushroom Tartex pate makes a nice flavour, especially if seasoned. I love it on top of vegan margarine.
Herb Tartex Pate
This vegan friendly pate was nice. I had feared it would have a strange sort of perfume-like taste, as that is what I find with a lot of herb flavours in foods. It benefited from salty seasoning I put on it. The consistency of it was less firm than I would expect pate to be.
I didn't think this sounded nice, as I am not a huge fan of olives, but I was very pleasantly surprised. It was quite tasty and tasted nicer than olives. The consistency of this vegan friendly pate is smoother and lighter than I would normally expect pate to be. I would prefer it to be firmer.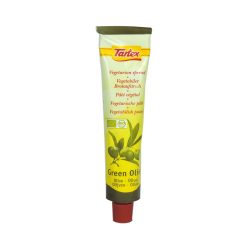 This vegan Friendly pate was quite nice, especially with rice crackers. The garlic was not overwhelming, and neither was the herb flavour. Adding salty seasoning made the taste better. The texture of the pate is smooth and light, whereas I would normally like pate to be a bit firmer.
VBites Vegi Deli Brussels Style Pate
This has quite a subtle but nice taste, but is fairly dry. Although this vegan friendly pate has a soft texture, it is sort of crumbly too.

V-Bites Vegi Deli Gourmet Mushroom Pate (Holland & Barrett)
I often really like mushroom flavoured foods, so was looking forward to this vegan friendly pate. However, I didn't think it had much taste. I needed to add salt to get a flavour. However, my friend said she found it already quite salty without adding salt. I thought it had quite a dry texture for pate.

GranoVita Vegetable Pate (Golden Harvest Health Food Shop, Whitehaven)
This was nice but I think it needed salt or other salty seasoning. I thought it was fairly tasteless, and found that what taste it did have was quite a strange one. It had a nice texture for pate though. Steve wasn't too keen on this vegan friendly pate, but he never did like pate anyway.
GranoVita Olive Pate (Golden Harvest Health Food Shop, Whitehaven)
I like this better than the other GranoVita vegetable vegan friendly pate I have tasted, as it is a bit saltier, but I feel it still has a slightly strange taste that I don't like much.
It has a good pate-like texture and isn't too dry.
GranoVita Pateole Mushroom Pate (H&B)
I really liked the texture of this vegan friendly pate, I thought it was a perfect pate consistency. The flavour was not salty enough for me, but quite nice when I added seasoning.
Suma Savory Pate and Mushroom Pate (8th Day Co-op, Manchester)
My friend Helen and I thought the savoury flavour of this vegan friendly pate was possibly a tiny bit nicer than the Tartex Classic Pate. We both thought the mushroom was a little tasteless and needed salt.

Suma Mushroom Pate Bombe
This vegan friendly pate had a nice texture for a pate, but I felt it needed quite a bit of salt to give it enough flavour. I know I do like food saltier than many other people though.
Comments
Have we made a mistake, or is any food we have featured no longer vegan? Do you have an alternative opinion on any of the food we have tried? The more opinions people have to go on, the better, so please leave a comment.