If you would like to support the running of this site for free, please click on the adverts.
Click to see our Facebook Page:-

On this page: reviews of vegan desserts, and where you can buy them.
Because taste is so subjective, you may like to take a look at the "What May Affect My Reviews" page before reading the reviews.
For more vegan desserts please see:
Top Choices
Our top picks from all the desserts on this page are Alpro Dark Chocolate dessert, Alpro Velvet Vanilla Dessert/Custard, Tesco Free From Creme Caramel, Food Heaven Lemon Cheesecake, Tesco Free From Banoffee Dessert, Tesco Blackcurrant Cheesecakes. The good news is that they are all available from supermarkets!
Here are all the vegan desserts, other than ice cream and yoghurts, we have tried so far…
Other Vegan Desserts
Food Heaven Dairy Free Lemon Cheese Cake (Morrison's)
Food heaven is a good description, the taste of this vegan friendly dessert is heavenly. I think it is the nicest cheese cake I have ever tasted, be it vegan or not! The lemon flavour is all the way through, not just on the top part, and the biscuit base is more like lovely vegan shortbread than digestive. The lemon taste is like lemon curd, which I always loved. My friend Helen also enjoyed it, but said it would be better with more of the biscuit base, and just to be a generally deeper cheesecake. It is quite expensive too, as it is quite small. It is such a delicious treat though!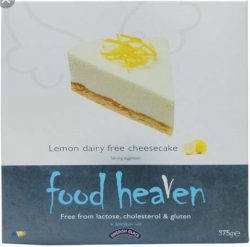 Iceland No Moo Chocolate Puddings
Usually when puddings promise lots of gooeyness in the middle, you don't get as much as you hoped. For that reason, we put a bit of Alpro Custard on ours to make the pudding moist. We needn't have. It was lovely and moist and full of chocolatey goo. My other half Steve is also a fan.
Alpro Dessert Moments Hazelnut Chocolate (Tesco)
Steve and I both expected to like this vegan friendly dessert, as we like the Alpro dark chocolate dessert pots, but we were disappointed. Hazelnuts and chocolate is usually such a tasty combination, but neither of us liked the taste of these and wouldn't buy them again.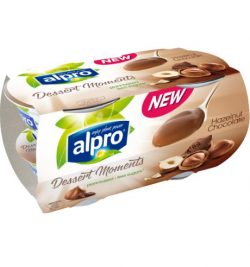 Tesco Free From Creme Caramel
I was half expecting the woody taste of the soya milk in this vegan friendly dessert to come through, as that is what happened when I tried the Tesco brand of chocolate desserts, but it didn't. In fact, they were absolutely delicious! They taste just like the dairy creme caramels I remember, or even nicer. I will be buying more.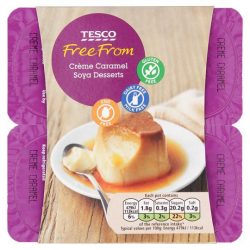 Alpro Caramel Dessert (Morrison's)
These were nice, but Steve and I felt they also had a very slight coffee taste to them, which we would have preferred them no to have.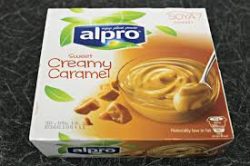 Alpro Custard (Tesco/Morrison)
This is a really creamy and nice vegan friendly dessert. It tastes a bit different to the custard I was used to before, but it is still lovely. If anything, I would like it a bit sweeter (but I think that about most things!). I sometimes add toffee Flavdrops (MyProtein.com) to make it taste like toffee custard, which makes it sweeter.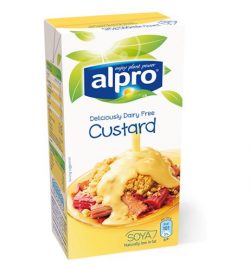 Tesco Free From Banoffee Dessert
I really enjoyed this vegan friendly dessert, it was lovely and sweet.
Oatly Custard (Tesco)
Steve and I both thought this was nice, but it was a tiny carton for the price.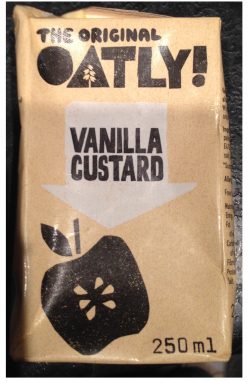 Freaks Of Nature Choc & Awe Desert (Tesco)
This was a chocolate caramel desert with oat base. It was nice except for when I got to the oat base. That was disappointing as it wasn't sweet enough. It would have been nicer if it was biscuit.
You can also purchase this online at:
The Vegan Kind
Pudology Clever Little Treats Richly Indulgent Banoffee Pies (Asda)
My favourite layer of this dessert is typically the biscuit base, but in this brand of the dessert it was the middle layer, which was delicious. I thought the biscuit base could have been sweeter and richer, as it was not sweet enough for me. Steve found it sweet enough for him and liked the dessert.
Pudology Smooth Chocolate Orange Puds (Asda)
Steve and I tried these. They are sort of a mouse, but with a more solid and less light consistency. I immediately tasted that it was very chocolatey, but thought it would be nicer if sweeter. The next thing I tasted in it was coconut. I could taste a bit of orange as well. Neither Steve nor I are fans of coconut, but Steve said he couldn't taste coconut in the pud. He said he could just taste chocolate and orange, and liked the taste.
Alpro Velvet Vanilla Dessert
This vanilla dessert comes in 4 little pots, and is lovely and tasty. I think it tastes exactly the same as the Alpro custard that comes in a carton.
Alpro Smooth Chocolate flavour dessert (Tesco)
Steve and I both agree that this chocolate vegan friendly dessert is not anywhere near as nice as the dark chocolate flavour (which is strange, because I really dislike actual dark chocolate because it's so bitter). The dark chocolate flavour seems to have a stronger chocolate taste, which makes it nicer, and it isn't at all bitter like actual dark chocolate is.
Tesco 2 x Free From Blackcurrant Cheese Cakes
I often find black currants too tart, but this was just a sweet sauce on the top. This whole vegan friendly dessert was lovely. It had a lovely biscuit base.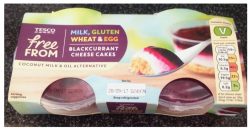 Gu Free From Chocolate & Vanilla Cheesecakes (Asda)
These taste of coconut, as well as chocolate and vanilla. They are quite nice and sweet, especially the biscuit base.
Tesco Free From Chocolate Dessert
These vegan friendly desserts are made with soya milk. They were nice and chocolatey, but I could detect the woody/wholemeal type taste long life soya milk sometimes has. Because of that, I prefer the Alpro dark chocolate dessert, as it does not have that taste.
Hartley's Strawberry Jelly (The Original Factory Shop)
This was lovely and sweet and tasty.
McDonalds Hot Crispy Apple Pie
My friend Helen tried this. She said it was sweet and cinnamon-y and she found it tasty. It was nice and crunchy on the outside, and lovely and gooey inside. I am looking forward to trying one myself.
Huntley & Palmers Luxury Christmas Pudding
This was delicious, nice and moist and sticky. Lovely with vegan custard. I would happily have it again.
---
Comments
Have you spotted a mistake, or is a food product now no longer vegan? Do you have an alternative opinion on the food we have included, or any other vegan food products? Let us know what you thought of them and where you got them.