If you would like to support the running of this site for free, please click on the adverts.
Click to see our Facebook Page:-

On this page: reviews of vegan cereal, and where you can get it.
Because taste is so subjective, you may like to take a look at the "What May Affect My Reviews" page before reading the reviews.
Top Choices
Our personal favourites are probably the sweetest cereals. Nestle's Golden Grahams and Golden Nuggets are the nicest, but Sante Chocolate Granola and Peanut Granola are also both delicious.
Here is all the vegan cereal we have tried so far (we will add more as we try it)…
Vegan Cereal
Nestle Golden Grahams (Tesco)
This cereal tastes absolutely gorgeous, especially when eaten with cold Rice Dreams rice milk. I love the sweetness of this cereal and the creamy taste of the milk together. A big problem for me with them is that I just keep wanting more and more, as I find them extremely addictive.

Sante Chocolate Granola (Home Bargains)
I like this cereal, especially with Rice Dream rice milk, but I would like it better if it was more chocolatey, as I feel the bits of chocolate are too few.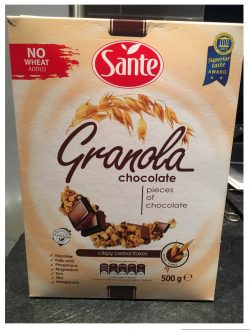 Sante Peanut & Peanut Butter Granola (Home Bargains)
Both Steve and I think this vegan cereal is really tasty. It's very more-ish too.
Mornflake Chocolatey Squares (Poundland)
These are pretty tasty. If you like Nutella, these crunchy parcels are filled with stuff that tastes just like it. They are nice to have as a cereal, or just to eat dry as a snack.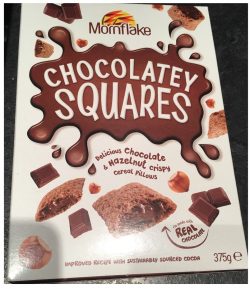 Nestle Chocolate Chip Cookie Crisp (Home Bargains)
This cereal is nice, but I would prefer it to be quite a lot sweeter and more chocolatey.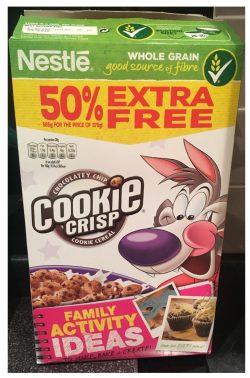 Nestle Golden Nuggets (Tesco)
I love these! They are really sweet and tasty. Rice Dreams milk with them is delicious.
Simply Spelt Spelt Flakes (Aldi)
This vegan cereal wasn't particularly tasty, as it lacked sweetness for me. Steve liked it better.
Morrison's Wheat Biscuits
This vegan cereal is nice with some sweetener of sugar on, or a squeeze of golden syrup.
Whole Earth Golden Organic Gluten Free Cornflakes (Ocado)
Nice cornflakes to have with creamy plant milk. I made crispy cakes with these too.
Morrison's Free From Cornflakes
These free from cornflakes taste nice with Rice Dreams rice milk.
Quakers Oat Granola Golden Crunch
Some granola has honey or milk in it, but we found a few that didn't. This was nice, but I added Agave syrup to it for sweetness.
---
Comments
Please let us know what you think of these, or any other vegan food products you have tried, and where you got them. The more opinions people have to go off, the better!
Please also tell us if you think we have made a mistake, or that a food product is now no longer vegan.