If you would like to support the running of this site for free, please click on the adverts.
Click to see our Facebook Page:-

On this page: reviews of vegan cakes and tarts, and where you can buy them.
Because taste is so subjective, you may like to take a look at the "What May Affect My Reviews" page before reading the reviews.
Top Choices
Out of what we have tried, a few come out top. Both Morrison's and Happy Shopper's Bramley Apple Pies, Tesco Free From Blackcurrant Cheesecake, and Food Heaven Lemon Cheesecake, which we found in Asda.
Here are all the vegan cakes and tarts we have tried so far…
Vegan Cakes And Tarts
The Morrisons Bramley Apple Pies
These vegan cakes were delicious. They have a generous amount of filling, which makes them nice and moist. I don't like apple filling to be too chunky, I like the sweet puree stuff more. These were great because they had little chunks and lots of sweet puree – just right. They were sweet enough for me, but also quite nicely tangy. I would buy these again.
Happy Shopper Bramley Apple Pies (Post Office Convenience Store)
These pies have a generous amount of filling, mostly puréed apple, with a few chunks. I like that. They are nice and sweet too. They are on a par with the Morrison's Bramley Apple Pies, above.
Morrison's Savers Apple Pies
The ratio of pastry to filling in these pies was not good. They were quite dry, nowhere near enough filling in them for me. I wouldn't buy again.

The Sainsbury's Free From 6 Assorted Tarts –
These vegan cakes were sweet and delicious, Plenty of jam filling to prevent them from being dry. Steve liked them too.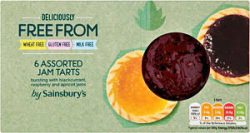 Holly Lane 6 Bramley Apple Pies (Aldi)
I bought these apple pies to see how they compared with Morrison's own bramley apple pies, as Aldi products are supposed to compare well to rival supermarkets products – on their adverts, anyway! It turned out that Morrison's pies were far nicer. The Aldi ones did not have as much filling in and were too dry.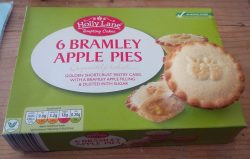 Mr Kipling Treacle Tart (Morrisons)
I find this vegan tart a little dry without having something moist with it, so I had it with Alpro Dairy free custard (Morrisons and Tesco). The combination of the lovely creamy custard and the lovely sweet syrupy tart was delicious. I would definitely say the taste is more syrupy than treacly though.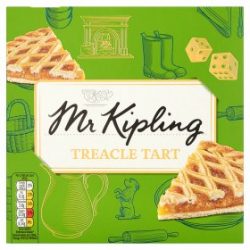 Soreen Banana Moist Fruit Loaf (Tesco )
I had this vegan loaf with dairy free Vitalite, and it was nice, but could have benefited with cinnamon being added…so I sprinkled some on, and it was very nice.

Oatein Millionaires Shortcake Salted Caramel (Aldi)
This was not very sweet. The caramel part was quite solid and just not sweet enough. Steve thought the same.
Asda Free From 5 Caramel Rice Squares
These little vegan cakes tasted a bit odd to me, they had a sort of treacle flavour, and it didn't taste right to me.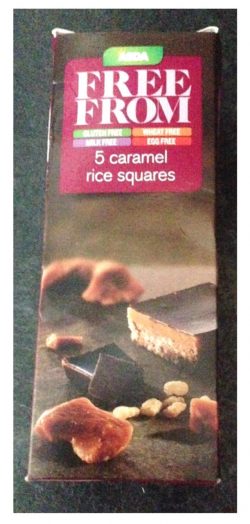 Asda Free From 5 Millionaires Short Cake Squares
These vegan cakes were nicer than the rice squares, but still had that slightly odd treacle-like taste.
Co-op Free From Cranberry & Orange Tiffin Bites
I'm not usually keen on fruit in Chocolatey cakes, but I couldn't taste it too much in these. They weren't amazing, but I probably wouldn't turn one down. My friend also tried them and says "Not usually a fan of cranberries but they were pleasantly sweet and chewy, loved the zingy choc orange flavour. Tiffin in general is delicious. I don't know if this was just a seasonal version though"
Lazy Day Foods Belgium Chocolate Free From Tiffin Slices (8th Day Co-op, Manchester)
These vegan cakes were lovely. They had a nice chocolatey taste. They were popular with my friends kids too (hence the box being empty before I could get a photo!).
Lazy Day Foods Free From Millionaires Shortbread
Steve and I both thought these vegan cakes had a slightly treacle-like taste. They weren't as nice as we'd hoped, but were OK.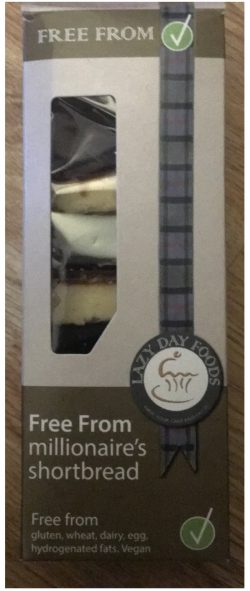 Lazy Days Foods Free From Chocolate Orange Slices
Steve and I both thought these vegan cakes would have been nicer without the sultanas in. We still liked them though.
Kent and Fraser Double Chocolate Vegan Brownie (Sainsbury's)
Kent and Fraser Double Chocolate Vegan Brownie (Sainsbury's) – Sometimes brownies bought pre-packaged from shops can be dry and too sponge-like all the way through, instead of moist and gooey in the middle. I was a bit concerned that this one would be like that, but I was pleasantly surprised. Although it was not the gooeyest one I have had, it was far from the driest, and I enjoyed it.
Mr Kipling Bramley Apple & Black Currant Pies (Tesco/Sainsbury's/Morrison)
These pies were nice but the black currant filling is too tart for me.
Tesco 2 Free From Black Currant Cheese Cakes
I often find black currants too tart, but in these vegan cheese cakes the black currant flavouring is just a sweet sauce on the top. The whole thing was lovely.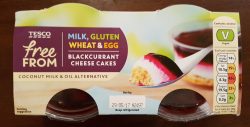 Food Heaven Lemon Cheesecake (Asda)
This was absolutely delicious! I think it could actually be nicer than any other cheese cake I've tasted in my life, including those containing dairy. It truly is heavenly, with a sweet biscuit base that tastes like the delicious vegan shortbread biscuits I have tasted.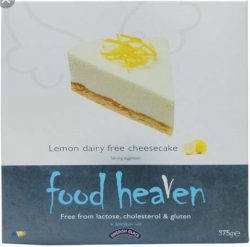 ---
Comments
Please let us know what you think of these, or any other vegan food products you have tried, and where you got them. The more opinions people have to go off, the better!
Please also tell us if you think we have made a mistake, or that a food product is now no longer vegan.