If you would like to support the running of this site for free, please click on the adverts.
Click to see our Facebook Page:-

On this page: reviews of miscellaneous vegan food products, and where you can buy them.
Because taste is so subjective, you may like to take a look at the "What May Affect My Reviews" page before reading the reviews.
Everything Else:
Sainsbury's Basics Spaghetti In Tomato Sauce
This was nice, but as usual, I needed to add salt and to give it enough flavour for my taste.
Bacon Flavour Crumbles, (from B&M)
These were nice, but they did not have a strong enough bacon flavour.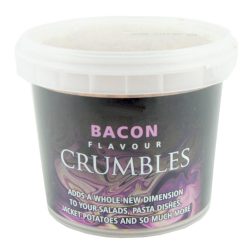 Cauldron Vegan Indian Bites (Tesco)
This was far too hot and spicy for me, but probably not for many people. Steve didn't seem very keen either.
Cauldron Marinated Tofu Pieces (Tesco)
I didn't like whatever is was that this vegan product had been marinated in, but when I mixed them into a nice sweet Aldi hoisin and garlic sauce, I really liked them. Steve doesn't like hoisin sauce so wouldn't try it.
Asda Smashed Avocado
This was puréed avocado with some small chunks in it. When I tried it as a sandwich spread on its own, I found it too bland, so I added Indian black salt to it, to give it an egg-like taste. Steve and I then had sandwiches. I liked it, and Steve thought it was just OK.
Vbites Vegi Deli Gammon Style and Leek Quiche (8th Day Co-op, Manchester) –
The gammon style pieces tasted nice and were nice and salty, but this quiche also had a fishy flavour to me. Better than some other vegan quiches I've tried.
Caramelised Sweet Red Onion Chutney (Aldi)
This chutney is lovely and sweet, and thankfully for me, NOT hot & spicy – yay! It is lovely in sandwiches and wraps with cheese.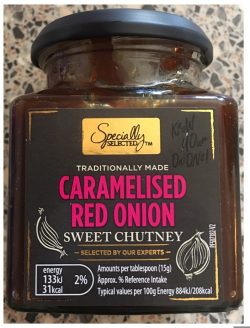 Morrison's Market Street Falafel & Houmous Dip Pot
My friend Helen and I tried this and found the falafels on their own quite dry, but luckily there was enough lovely (plain flavoured) houmous to dip them in.
Morrison's Vegan Hosimaki Vegan Sushi
This vegan product seemed to consist of white rice with seaweed around the outsides, and different vegetables and spices in the Centre. There was soy sauce to put on it. Without the soy sauce, it would have been too plain for me and I'm not convinced I would have been too impressed, but with the soy sauce it another story – it's really nice. My friend, Helen, thought the same.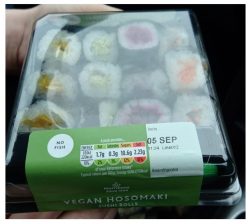 No Bull Tofu Burgers (Iceland)
Neither my partner not I liked this vegan product. It did not have much taste and we did not like the texture which was slightly jelly-like.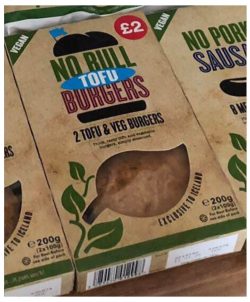 Follow Your Heart Vegan Egg (bought online)
This vegan product is a powder that you mix with water and then fry the resulting paste/sauce. The powder smell was disgusting, not just eggy, but like a string and nasty eggy fart! I REALLY thought that there was no way I was going to like this stuff. While I was frying it, I added Bacon Flavour Crumbles, (from B&M or Home Bargains, can't remember which), and some Free & Easy Dairy Free Cheese Sauce Mix (Holland & Barrett) powder, plus quite a bit of salt. The horrible smell went away and was replaced by a nice smell, the paste/sauce went just like scrambled eggs and I really enjoyed the end product. When I make it again I will definitely have to put a peg on my nose for the first part of making it though!
Algamar Dulse Seaweed (Real Foods)
This reportedly tasted like bacon, so I fried it like bacon. It was extremely salty, too salty even for me. Rather than tasting like bacon, it just tasted like very salty sea weed. It would probably be a lot nicer if small pieces were used as an ingredient in other food.
Osem Chicken Flavor Soup and Seasoning (Sainsbury's)
This was suggested to me by another vegan as a vegan replacement for the non-vegan Knorr Aromat seasoning. Both Steve and I really like it. It's great for putting on almost any food as a seasoning, and great to flavour sauces.
Golden Vegetable Rice Classic Taste (Home Bargains)
Rice is never usually very flavoursome, and this is no exception, but it is nice for putting a sauce or seasoning on, and very quick and convenient. It's nice that it has peas in it too. Steve says he enjoyed it.
Orgran Easy Egg (Sainsbury's)
The mixture (easy egg powder, oil and water) didn't really smell of egg, and the bits I fried in the pan were a little egg-like, but tasted a bit bland. I had some Indian black salt, which has an egg smell, so I added that, and it added a salty flavour. It certainly looked like scrambled egg, and with the salt, was tasty. My other half Steve liked it too. It maybe had a slight, but not unpleasant, potato-like flavour.
Itsu Vegetable Fusion Gyoza Dinner Dumplings (Morrison's)
These are wheat parcels with Asian vegetables, soya mince and tofu inside, with a soy sauce dip. Helen and I fried these until crispy. They can be steamed but we thought this might leave them soggy rather than crisp. I thought they were nice with the soy sauce dip, although a bit bland without. However, either the dumpling, or the soy sauce, was too spicy for me. That was not the case for Helen, and she liked the dumplings with or without the soy sauce. I couldn't really detect the soya mince or tofu. The dumplings reminded me of mini vegetable spring rolls, but not quite as tasty.
Suma Baked Beans with Vegan Burgers (Golden Harvest Health Food Shop, Whitehaven)
I liked the beans but I didn't like the texture or taste of the mini burgers.
Suma Baked Beans with Lincolnshire Style Sausages (Golden Harvest Health Food Shop, Whitehaven)
I enjoyed this, it was tasty.
Morrison's V Taste Vegan No Moo-zarella sticks
Steve and I really liked these. Yummy seasoned breadcrumbs on the outside and soft runny cheese in the middle. The cheese didn't taste weird or horrible either, it was really nice.
---
Comments
Have you spotted a mistake, or is any of the food we have reviewed no longer vegan? Would you like to share an alternative opinion about the vegan foods we have tried, or about any others? The more opinions the better, so comment below with where you bought them and what you thought of them.