If you would like to support the running of this site for free, please click on the adverts.
Click to see our Facebook Page:-

On this page: reviews of vegan crisps & snacks, and where you can buy them.
See also:
Because taste is so subjective, you may like to take a look at the "What May Affect My Reviews" page before reading the reviews.
TOP CHOICES
Our favourites are Golden Wonder Smoky Bacon, Skips, Pringles Paprika and Original, Eat Real Cheezie Straws, Eat Real Veggie Straws Kale Spinach & Tomato and Sea Salt, Tesco and Seabrook Ready Salted, Smiths Prawn Cocktail, NikNaks Scampi & Lemon, Ten Acre Hickory BBQ and Chicken Soup, Smiths Prawn Cocktail, Primal Jerky Texas BBQ.
Here are all the vegan crisps and savoury snacks we have tried so far (more will be added as we try them)…
VEGAN CRISPS
Pringles Paprika Flavour (Tesco)
The flavour was lovely and they weren't too spicy for me, unless I ate lots at once. I think they taste quite sweet, which I really like. Steve really liked them too, they are his favourite Pringles. They're too expensive for us though, unless on offer.
Pringles Smokey Bacon flavour (Morrison's)
We thought these crisps would taste nicer than they did. We usually love smokey bacon flavours, so were disappointed. They are not like the bacon flavour I am used to, like the lovely Golden Wonder Fully Flavoured Smokey Bacon Crisps. Steve agreed it was different and not as nice too. I thought they definitely have a BBQ flavour mixed in with the bacon flavour, and it's that that made them not as nice for me.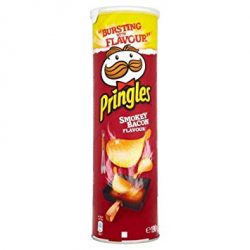 Pringles Texas BBQ Sauce Flavour (Morrison's)
Steve and I found these vegan friendly crisps OK. They are nicer than some other BBQ flavours I have tasted, but we liked the original and paprika flavours better.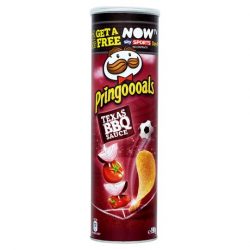 Pringles Original (B&M)
These are really nice, and remind me of the flavour of chips from a traditional chippy.
Snackrite Stackers BBQ flavour (Aldi)
At first These tasted quite nice, but then my mouth started burning – they're spicy! I couldn't eat any more than about two. My sister in law tried them, and after a few of them, she exclaimed that they were spicy, but they can't have been too spicy for her, as she kept eating them. . My other half Steve didn't find them too spicy for him, but thought they did have a kick.
Asda Onion Rings crisps
I liked these vegan friendly crisps. I sometimes find onion rings too overpowering, but these weren't, but they didn't have too little flavour
either.
Skips
The lovely sweet prawn cocktail flavour of Skips is gorgeous. Another advantage is that they are low calorie for crisps too.
Golden Wonder Fully Flavoured Smoky Bacon Crisps (Tesco) –
These vegan Friendly crisps are absolutely delicious! It's a really nice bacon flavour and a good strength.
Walkers Marmite Flavour Crisps
These tasted a bit like beef crisps to both Helen and me. They were nice, as we both like beef crisps.
Tesco Bacon Rashers crisps
These are very nice and tasty. The flavour is nice and is strong enough. The only thing is that these type of crisps always leave me feeling a bit greasy.
Tesco ready salted crisps
I was a bit disappointed when Steve came home with these, as I thought supermarket cheap own brand crisps often had little flavour, but I was pleasantly surprised by a good amount of salt making these vegan friendly crisps tasty. They are a great price too, so I would get them again.
Seabrook Ready Salted Crinkle Crisps
These crisps are pretty tasty, with a nice amount of salt.
Golden Wonder Ready Salted Crisps
Because Golden Wonder smoky bacon flavour are so tasty, I thought these would be too, but found I would have liked them to be saltier.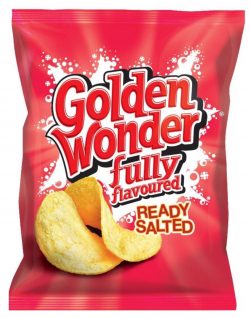 Smiths Prawn Cocktail Crisps, (B&M)
These vegan Friendly crisps have a good amount of flavour and are really nice. To me, they taste across between prawn cocktail and sweet tomato sauce flavour, but that is a really nice combination.
Eat Real Organic Hummus Chips, Sea Salt (Eighth Day Coop, Manchester)
These are really nice. I think they could have been saltier for me, but I like things pretty salty. They have a lot less fat in them than normal crisps.
Bio Eat Real Organic Lentil Chips,
Bio Eat Real Organic Veggie Straws (Food For Thought health food shop, Kingston, London)
These vegan Friendly crisps were all really nice. I like things really salty, so would have added more salt, but they were all still delicious without extra salt. Steve really liked these too.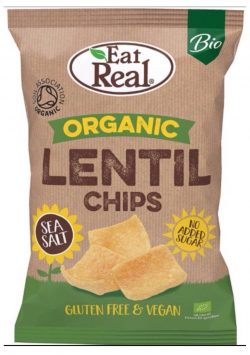 Eat Real Quinoa Chips, Sundried Tomato & Roasted Garlic Flavour (Real Foods) –
We both thought these vegan friendly crisps were nice, but thought they would be nicer if the flavour was stronger.
Eat Real Quinoa Chips, Sour Cream & Chives Flavour (Real Foods)
We both liked these, but would have liked the flavour to be stronger.
Eat Real Quinoa & Kale puffs, white Cheddar Flavour (Real Foods)
It is not common to find vegan friendly cheese flavoured crisps, so I was excited to try these. Steve and I liked the cheese flavour, but would have liked it to be stronger. Disappointingly, we found the puffs too dry, plus once we crunched into them, we found the flavour totally disappeared.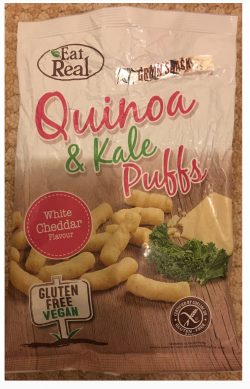 Eat Real Cheezie Straws (Morrison's)
Steve and I both like these. They are much better than the puffs, above, because they are not as dry. They would be nicer if the flavour was stronger, but they are still tasty.
Eat Real Veggie Straws Kale Tomato Spinach (Morrison's)
These were reviewed by my friend Helen: These say reduced salt on the packet. I think more salt was needed to give them enough flavour, as they taste a bit bland. Because of the lack of flavour, dipping them in houmous or other dip would be better.
Ten Acre Hand Cooked Chicken Flavour Crisps (8th Day Co-op, Manchester)
Very tasty with a flavoursome taste of chicken. I'd get these again. Helen also liked these vegan friendly crisps and felt the same.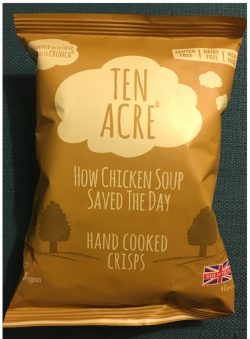 Ten Acre Hickory BBQ Crisps
These were really tasty, good strong flavour. My friend Helen and I loved them and so did my friend's children. My friend's son was really disappointed when he discovered there were none of these tasty vegan friendly crisps left!
Seabrook Beefy Crisps (Poundland)
I didn't know whether to include these, because of confusion over whether they actually were vegan or not. Although the ingredients shown on the pack I bought were vegan. When I checked on the Seabrook website though, this flavour was listed as having milk in. I have since seen packets in the shops still without milk in their ingredients, so I'm not sure. Anyway, after all that, I found their flavour to be a bit weak.
Wheat Crunchies Crispy Bacon (Home Bargains)
These vegan Friendly crisps were nice, but they could be improved by having a stronger flavour. I also find them a bit dry and heavy. My friend likes these a lot.
Passions pop outs maple bacon flavour, Aldi
These were quite nice, but I felt they needed to have a stronger flavour.
(awaiting image)
Nik-Naks Scampi & Lemon Flavour (Co-op)
I was pleased to see these crisps were vegan friendly. They were very tasty and I'd like to get more. My friend Helen also enjoyed them. I would like to buy them again.
Nik-Naks Rib 'n' Sauce Flavour (Co-op)
These are another flavour I was pleased to see being vegan friendly. They were very tasty and I'd like to get more of these too. My friend Helen said they were nice too.
Tesco Free From Cheese Nachos
It's nice to find some cheese flavoured vegan friendly crisps, but unfortunately the cheese flavour wasn't very strong. Steve thought a stronger flavour would be better too, but he liked them.
Mister Free'd Tortilla Chips Cheese Flavour (Home Bargains)
For me, there was not enough cheese flavouring on these. Steve liked them, but he said he would have liked the cheese flavour stronger too.
Co-op Bacon Rasher Crisps
I didn't think these crisps had enough flavour. They are the type of crisps that leave me feeling like a greasy blob anyway, but the weak flavour was a disappointment. Steve also felt they would have been improved with a stronger flavour, but he still ate them all.
Happy Shopper BBQ Beef Hoops (Many convenience stores)
My friend Helen and I liked these, but would have liked the flavour to be stronger.
Walkers Poppables BBQ Rib (Morrison's)
These are a sort of lattice cage. The flavour is nice, but I'd like it stronger. Steve liked them.
Hippeas Organic Chickpea Puffs Sweet & Smokin' (Holland & Barrett)
Steve and I thought these vegan crisps were OK, but the flavour wasn't strong enough. The puffs were also a little dry.
Co-op Lightly Salted Veggie Tortilla Chips
My friend Helen reviewed these: These are nice. I enjoyed eating them just like regular crisps, but they are also really nice to dip into something like salsa.
Kiddylicious Super Snacks Quinoa Snacks (Poundstretcher)
These are small packets of crisps. The crisps reminded me of Quavers, but without the cheese flavouring. They are curly, like Quavers, and they feel like them on your tongue. They would have been nicer with more salt, or another flavour, but we're still nice enough.
Hula Hoops Puft Beef Flavour
These are quite tasty, but I wish they had been more generous with the flavouring.
Seabrook Ridge Cut Sizzling Steak Flavour
These have a lovely flavour, but both Steve and I thought it needed to be stronger.
Boomers Protein Puffs, Flaming Hot (Home Bargains)
As expected, these were too spicy for me, but in addition, I didn't think they had much flavour. Steve thought they sounded nice because they had "Super Tasty" on the pack. He didn't think they were super tasty though and didn't really like them.
Boomers Protein Puffs, Pickled Onion (Home Bargains)
Although on the pack these claim to be super tasty, neither Steve nor I thought they were. Steve also didn't like the feel of the crisps in his mouth, or the after-taste.
OTHER VEGAN SNACKS
Sundried Tomato Flavour Peanuts (Tesco)
Steve really liked these and sent me back to buy more, but I was disappointed their flavour wasn't stronger and sweeter. I don't really like them but he loves them.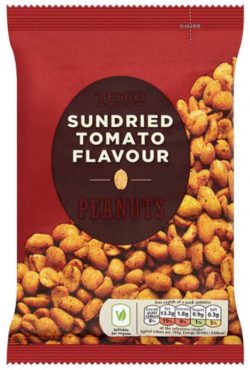 Big D Dry Roasted Peanuts (Home Bargains)
These are very flavoursome and my favourite brand of dry roasted peanuts.
Tesco Dry Roasted Peanuts
I didn't find these as flavoursome as the Big D brand, but Steve quite liked them.
Primal strips, Teriyaki (8th Day Co-op, Manchester)
These were too hot and spicy for me, but my friend liked them. They are quite nice and moist.
Primal Soy Vegan Jerky, Texas BBQ
Both my friend and I thought this was definitely the nicest flavour of these we've tried. It was really lovely and sweet, and not hot and spicy at all. We would both definitely have more.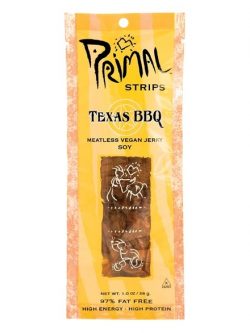 Kings Tomato & Herb Veggie Jerky
This vegan jerky is drier than Primal jerky, but is quite nice as a snack.
Kings Black Bean Vegan Jerky
I did not want to try this, as it would be spicy and I am sensitive to spiciness. My other half, Steve, who isn't as sensitive to it, tried it. He said it was far too spicy for him too.
---
Comments
Please let us know what you think of these, or any other vegan food products you have tried, and where you got them. The more opinions people have to go off, the better!
Please also tell us if you think we have made a mistake, or that a food product is now no longer vegan.